News & Reviews on BNA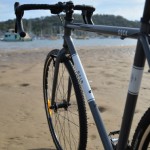 If you visit Melbourne, Sydney, Brisbane, Perth or Adelaide, you stand a good chance of spotting a Reid bike somewhere in these cities. The Australian company can still be described as a new-comer to the market, but they have expanded swiftly and are now selling in Europe and the USA as well. Reid's strategy is […]
Posts: 26
Joined: Sun Jul 14, 2013 7:32 pm
Location: Newcastle
Postby variable » Fri Aug 23, 2013 4:40 pm
This is my first build and I went with a lot of Miche components. In order to install the Miche Primato BB are there any tools I need besides some loktite and grease?
---
Posts: 4899
Joined: Sun Jan 20, 2008 4:35 pm
Location: Elimbah, Queensland
Postby singlespeedscott » Fri Aug 23, 2013 7:08 pm
A Campagnolo lockring/bottom bracket splined tool.
---
---
Posts: 26
Joined: Sun Jul 14, 2013 7:32 pm
Location: Newcastle
Postby variable » Thu Aug 29, 2013 9:56 am
No? I've heard conflicting stories. One being that you'll never remove the bb should I use loctite, the other that the miche bb is loose. I guess I'll just install it without lotite and see if it's loose and deal with it then.
---
Posts: 1476
Joined: Thu Apr 29, 2010 8:10 pm
Contact:
Postby high_tea » Thu Aug 29, 2013 1:04 pm
FWIW I've used no loctite on my Miche BB and have had no dramas.
---
---
---
Who is online
Users browsing this forum: No registered users
About the Australian Cycling Forums
The largest cycling discussion forum in Australia for all things bike; from new riders to seasoned bike nuts, the Australian Cycling Forums are a welcoming community where you can ask questions and talk about the type of bikes and cycling topics you like.
Bicycles Network Australia
Forum Information