News & Reviews on BNA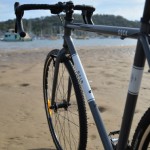 If you visit Melbourne, Sydney, Brisbane, Perth or Adelaide, you stand a good chance of spotting a Reid bike somewhere in these cities. The Australian company can still be described as a new-comer to the market, but they have expanded swiftly and are now selling in Europe and the USA as well. Reid's strategy is […]
Posts: 1165
Joined: Sat Feb 09, 2013 5:45 pm
Postby Calvin27 » Fri Mar 21, 2014 2:22 pm
Ordered!

*Edit - crap, I didn't know it came with rotors - and 140mm is sold out. Too excited haha.
Specialized Secteur Expert
Kona Hei Hei DL
Cannondale Synapse Ultegra disc 3
Hillbrick Pista
---
---
---
Posts: 137
Joined: Fri Feb 21, 2014 4:32 pm
Postby dinga78 » Sun Mar 30, 2014 12:30 pm
Folks the trigger has been pulled...
Versa srs 11 shifters purchased
Trp spyre brakes ordered from
merlin cycles
Jagwire hyper stainless universal brake cables
Giant contact 44cm, 135 drop 90mm reach
Fizik bar tape and 90mm cinelli stem just in case.
Will post photos as i go
---
---
Posts: 137
Joined: Fri Feb 21, 2014 4:32 pm
Postby dinga78 » Tue Apr 01, 2014 4:44 pm
new shifter outer 3m of sp41 shimano. figured it was just easier. got a 60mm race face stem on sale from
merlin
also so i have the full range covered.....think the current 110mm stem and long top tube will be too much of a stretch for me but we'll see.
will have spare 160mm rotors that i cant use and possibly the riser bars, alfine 11 shifter and avid elixr 1s if anyone needs any gear cheap.
---
---
---
Posts: 5702
Joined: Mon May 09, 2011 8:42 pm
Location: Sydney
Postby find_bruce » Sun Oct 26, 2014 6:36 pm
Biffidus wrote:I found out today that my Inc3 gets some nasty speed wobbles at ~66kph. I'm very glad it has good brakes!
Darn, just short of the
legendary
fred
woo hoo speed
of 46 mph
. . . . .
---
---
Posts: 1
Joined: Sun Nov 16, 2014 8:30 am
Postby blovquist » Sun Nov 16, 2014 9:03 am
Good Morning

I am looking for a new commuting/general runabout bicycle. I have been looking at the Inc 3 and I came across this conversation. I will be riding in regional NSW on the south coast around Moruya.

There are a few things that concern me.
1. Is the bike robust enough for rougher (gravel) roads, fire trails?
2. How well will it cope when I get pushed off the pavement onto the shoulder?
3. What is the maximum tyre width that could be fitted to the bike (with and without fenders)? I asked Avanti but they refused to tell!

If anybody could offer any advice/experiencs I would be grateful.

Thanks
blovquiist
---
Posts: 720
Joined: Wed Jul 23, 2008 9:20 pm
Location: RADelaide
Postby Biffidus » Tue Nov 18, 2014 8:34 am
My commute covers dirt paths, some gravel and quite a few rough curbs/ramps. The wheels are solid with lots of spokes. No worries so far!

It comes with 40mm Conti Sports Contacts and there's plenty of room for a wider tyre or 45mm mudguards. I'm running 28mm with 35mm planetbike mudguards. Be aware there's only a single set of fender/rack mount points at the back.
---
Who is online
Users browsing this forum: No registered users
About the Australian Cycling Forums
The largest cycling discussion forum in Australia for all things bike; from new riders to seasoned bike nuts, the Australian Cycling Forums are a welcoming community where you can ask questions and talk about the type of bikes and cycling topics you like.
Bicycles Network Australia
Forum Information