Hi everyone,
Living overseas as my partner is on a work contract for the next while and I find myself with some time on my hands. Always been interested in living a less car-centric lifestyle, and love riding bikes... so it wasn't long before I started looking at Cargo bikes, Particularly the 2 wheel bakefits/long john style ones. No kids yet but potentially in the future, and based in Canberra so have lots of great infrastructure to make bike riding a feasible alternative to car use.
Issue is that they are damn expensive in Australia, and non existent in Laos! The few that I have seen/ridden in Oz depart so far from regular bike riding experience (mainly weird geometry) that they are actually not enjoyable machines to use. I can't remember the model of the one I borrowed from my brother's neighbor in Newcastle but the super low bottom bracket made pedal strikes a significant issue when turning on a street with a gentle camber and the steering just seemed 'off'.
The goal at the outset of this project was to make an affordable 2 wheel cargo bike using limited resources that both I and my partner can ride (she is a shorty at 155cm or so), maintain fun bike riding geometry, space for 2/3 kids if needed, wide tyre capability for gravel/dirt touring/commuting, Hydro Disc brakes, Sturdy kickstand, bi-partable (for on car/international air travel) while maintaining a sensible weight. Also in the scheme of things is the option of mounting a mid drive electric conversion kit (the Bafang 8fun 750W mid-drive unit is the leading contender).
Options for donor bikes were limited in town, but stumbled on a small size mid 90s Trek Mountian Trek 850 for $80. Full rigid with 4130 Cromo tubing. Good standover height for my partner. I have to admit I have a soft spot for this model of bike (I rode a medium sized one across Asia for 13,000km in 9 months a few years ago.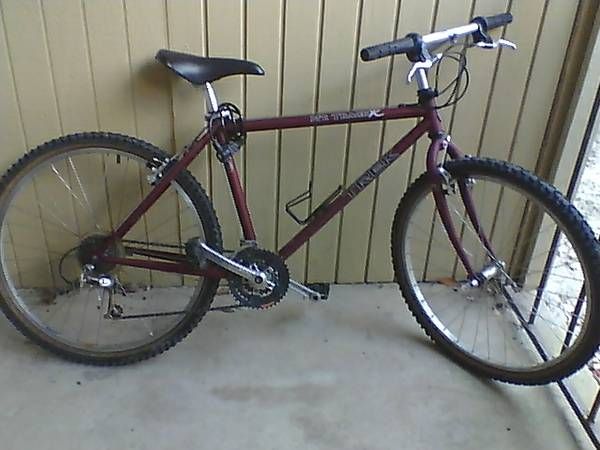 Donor bike sorted I had to find new steel to make the rest of the machine! No Cromo available here...no cold drawn tubing... had to settle for regular seam welded construction steel 1.6/2.0mm wall thickness or the project would never get off the ground.
Design wise I was taking inspiration from Bullit bikes, CETMA cargo bikes, Metrofeits, and kind of synthesized the elements I liked. I liked the Cetma bi-partable couplers and vertical steerer tubes that maximized cargo space. However because I needed this to be a simple frame build, my cargo frame design varied a bit from the regular manufacturers. My central cargo pole is the main load bearing element, and the cargo bay is just for stabilizing the load. So my main cargo boom is chunky, with the rest being lighter 22mm gal steel tubing. Both the Bulit and the CETMA use smaller gauge tubing but make the cargo hold a structural element of the front end of the bike.
I wanted to preserve the trad MTB handing so took some good measurements of the bike before working on it. I made a Jig out of left over 18mm ply and make spacers that would hold the bike and maintain the rear axle-BB drop/ seat tube angle. After stripping all the paint off it was time to get cutting. First to go was the headtube, then downtube. Cargo boom was shaped to fit the bottom bracket, seat tube junction, then top tube mitered to fit new vertical steerer. Steerer punched through cargo boom.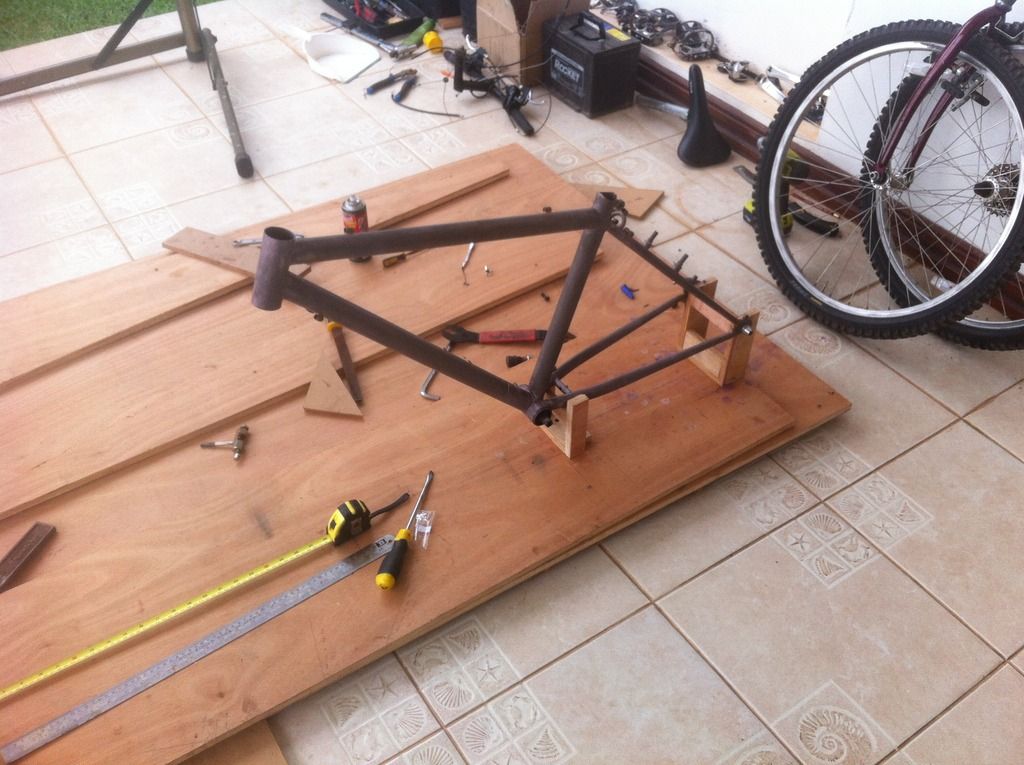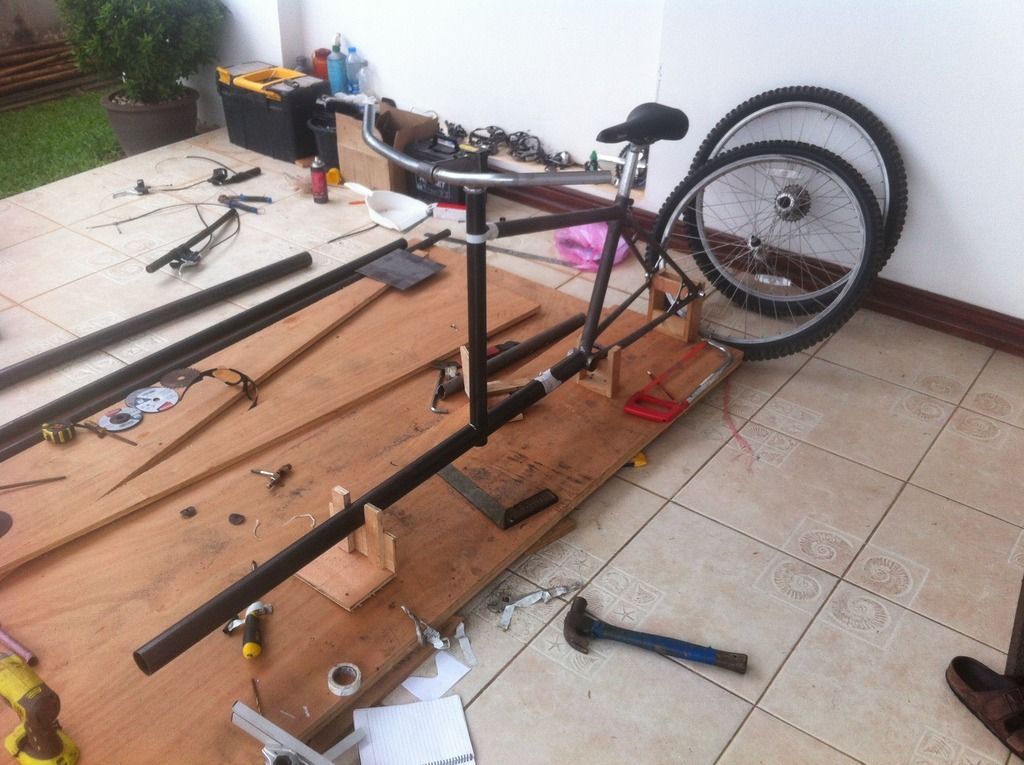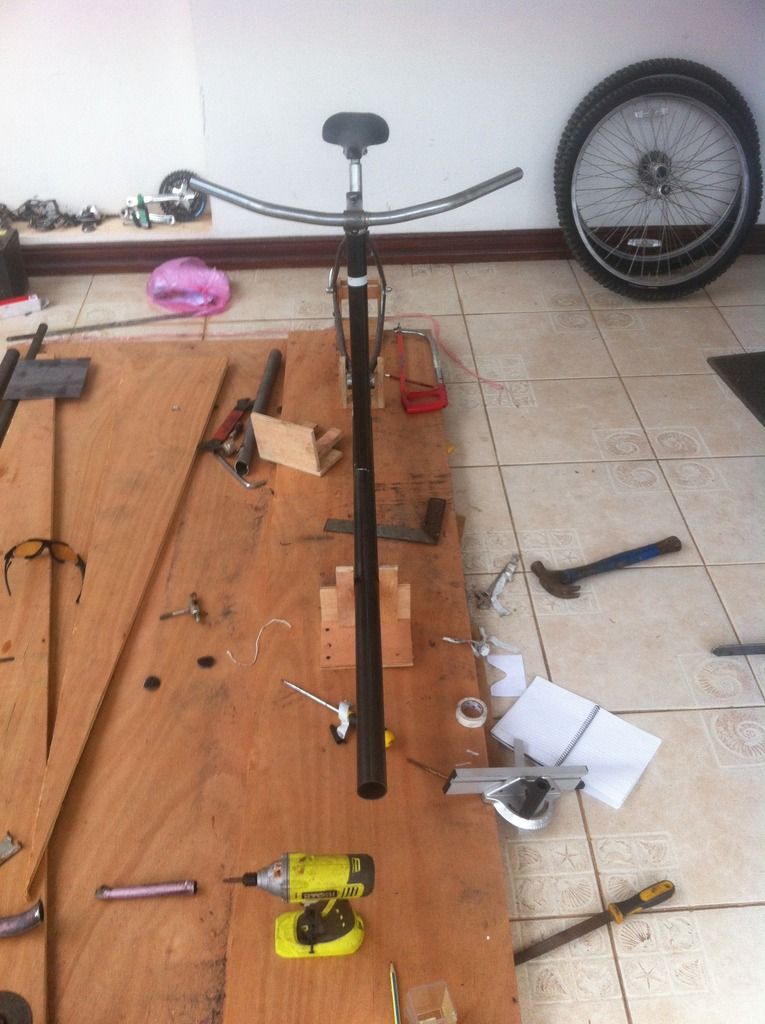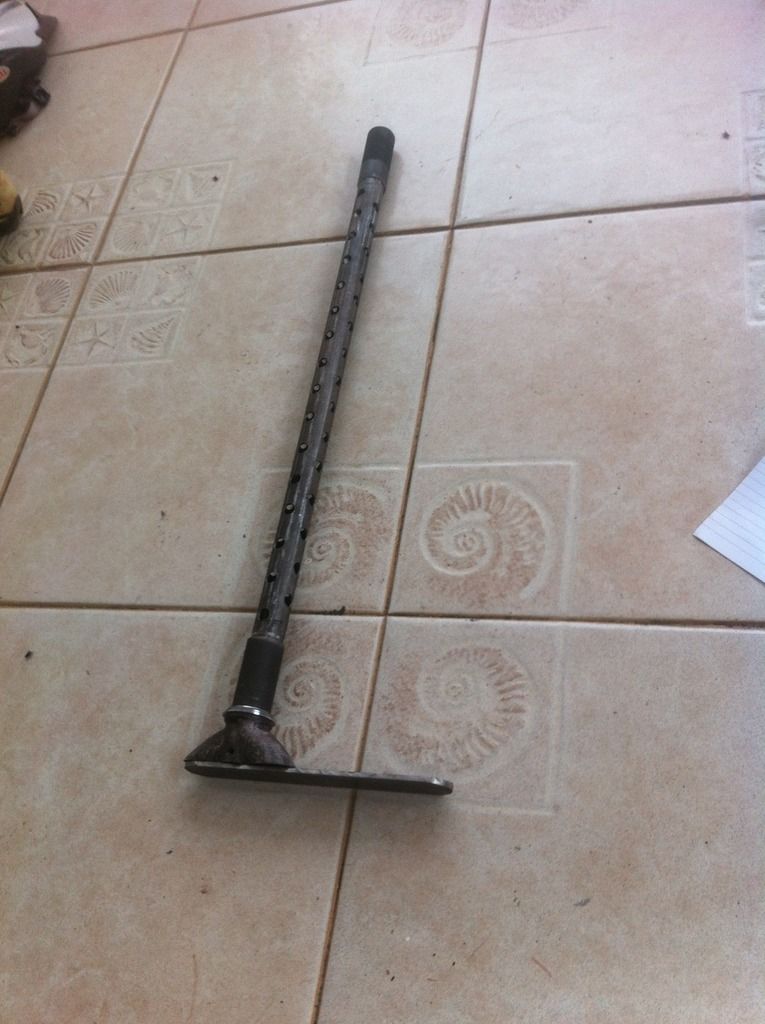 Things ground to a halt as I couldn't find a 20" BMX style bike to use for the front end. Luckily my parents decided to come visit at Christmas so used them as parts mules to bring over a cheap BMX fork, rim, Hydro brakes and a few other goodies. Pretty soon the front end was all mitered up and ready for welding.
After all the work getting to this point I was pretty nervous about the welding step. Most of the welding I have seen here has been pretty gnarly stick welding done by kids in flip flops with no eye protection. Luckily I found a Vietnamese run place that has a few tig machines that make fancy stainless steel gates for the nuvo-riche of Vientiane. It took a while for them to warm to the idea of doing such a small project but they eventually got on board.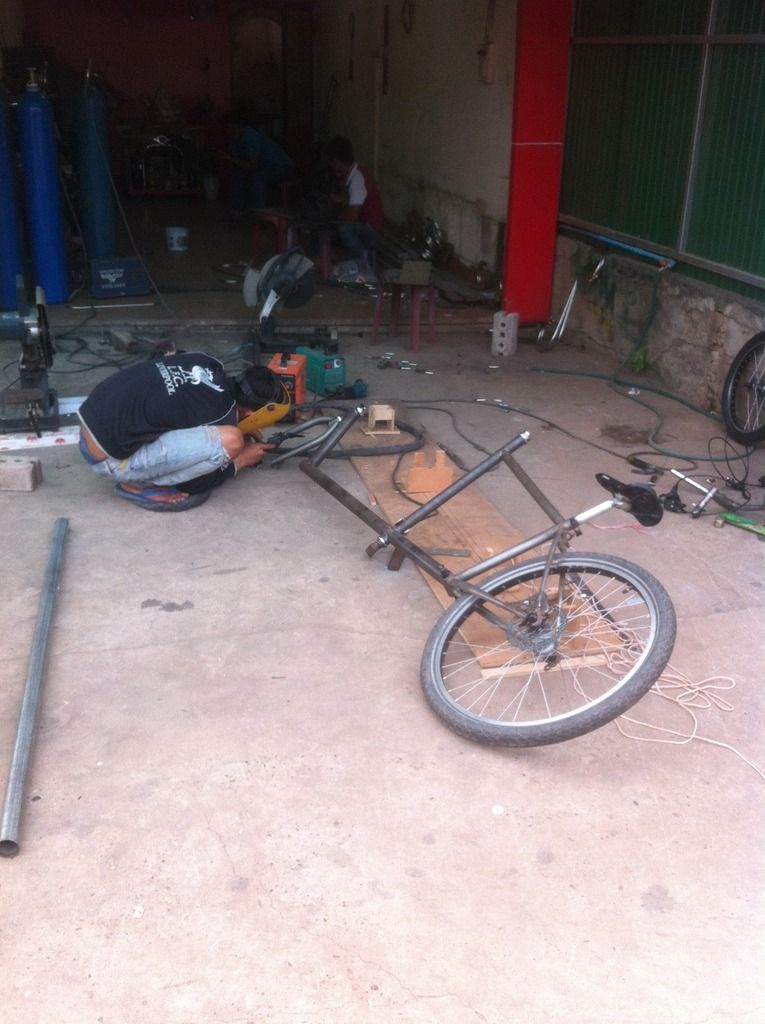 I made disc brake tabs out of some 4mm plate steel and made a rear brace to help spread braking load across the chain stays and seat stays. The front fork is a beefy bmx one so no extra re-enforcement was used for the disc brakes.
Turns out the trickiest part of the whole build was getting the Geometry right for the steerer rod, and figuring out the kickstand.
Bike is currently completely functional with 3x7 gearing, 2x shimano Hydro disc brakes, and flat cargo bed. Last things to do are to hack the frame in two and install my bi-partable couplers, weld on some steel tabs for ocky straps/kayak straps. Actually have some very nice instrument case/pelican case latches I picked up in Thailand for cheap that will make the carbo box easily/quickly removable. That is one innovation I think I am bringing to the current crop of machines which i'm pretty excited about (actually an intersection of two of my hobbies- Bikes and Sound Systems!).
Next step is quick release cargo box using the aforementioned Music case straps, welding on the bipartable couplers and then cleaning it all up for a nice coat of paint! Currently liking the idea of a really dark Jaguar green with subtle gold fleck- like you see on some guitars...
Hope you like it! Actually not that hard to do if you have a little time on your hands. Could be easily done using 2nd hand parts in Australia. You can get a pretty good result and not have to fork out the 4k for one of the brand name ones.