News & Reviews on BNA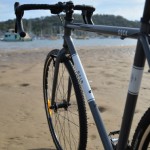 If you visit Melbourne, Sydney, Brisbane, Perth or Adelaide, you stand a good chance of spotting a Reid bike somewhere in these cities. The Australian company can still be described as a new-comer to the market, but they have expanded swiftly and are now selling in Europe and the USA as well. Reid's strategy is […]
---
Posts: 418
Joined: Sun Oct 04, 2009 2:44 pm
Postby cpical » Wed Feb 03, 2010 2:13 pm
steveoc wrote:Applying the above to on-the-bike work, this works for me :

- Eat 2-3kg of raw fruit every day leading up to a long ride.
- No meat, just simple carbs and lots of em. Fruit contains enough protein and unsaturated fats as is.
- No salt
- I skip the powerade/gatorade/endura .. and just go for clean water
- I take a small gladbag of various dried fruits on the ride - eat a small grab-full (about 30g worth) every 20 minutes. Dried fruit contains about 4 times the carbs of fresh fruit by mass, but you need to drink more water with it.
- Another small bag in the jersey pocket with fresh grapes, juicy dates, or other bits of fresh fruit that contain a good deal of water without getting your hands messy. (Flat white peaches - are good too, if you can find them). Easy to eat, and doesnt leave you thirsty.

Got me through RideLikeCrazy (100km) and MCCT (160km) this year at a good pace without any problems, and next day I felt fine - rode out to Willunga, watched stage 5, and climbed Willunga Hill a couple of times afterwards, and it was fun. Felt fine sunday as well - rode into town to watch the final day's racing, then up Gorge Road and did Fox Creek Rd again (OK - that bit hurt, but that is to be expected)

The year before that (on a 'standard' diet - meat, salt, fructose, milk, everything cooked to death and back again) - I bonked on every ride I did, suffered badly on every climb, and took a shortcut at the end of the MCCT just to survive. Id usually end up getting a bad cold and body aches after big rides as well, and definitely ended up confined to a tired sleep in the next few days afterwards.

Hope that helps.
Me think each and everyone has to try different food. I rarely take anything to eat with me, except on long rides (4 hours and over). F.ex., this morning, rode 3 hrs, with one bottle of diluted fruit concentrate and a bottle of water, nothing else. No problem. Same last saturday, 140 km with 2 bottles only, one stop to eat a spinach quiche, and nothing else. No probs. On the other hand, for the AAC200, I went low on Mt Buffalo, probably not enough fuel! And I know guys who ride long and hard with only one bottle. So
Untrained cyclists will need way more fuel than trained cyclists.
---
Posts: 6386
Joined: Wed Aug 13, 2008 11:45 am
Location: Taking a break.
Postby twizzle » Wed Feb 03, 2010 3:56 pm
Ant. wrote:Never mind the rookie error comment, misread your initial post.

ps. you should eat breakfast every day
Now you have confused me again? Breakfast reference?
Yes - I do skip pre-ride breakfast some mornings, but not if I'm doing an endurance ride.
I ride, therefore I am.
...real cyclists don't have squeaky chains...
---
Posts: 758
Joined: Sun Oct 26, 2008 9:34 am
Location: Perth
Postby Ant. » Wed Feb 03, 2010 9:38 pm
Just an idle comment, I don't know the details, but I've read before that you've skipped breakfast, bonked on the ride, and went off to find some calories
I can't start my day without 7 weetbix in my bowl drizzled in honey, even if it's a rest day.
And yes, 7 is a really akward number, since there's 12 in a row inside the weetbix box
Cervélo R3
Cervélo P3C
BT Blade
---
Posts: 6386
Joined: Wed Aug 13, 2008 11:45 am
Location: Taking a break.
Postby twizzle » Wed Feb 03, 2010 9:48 pm
O.K. - yes, I've made references to that before, but not on this thread. I've only done the full on bonk the once like that, although I've been pretty close a couple of time.
I ride, therefore I am.
...real cyclists don't have squeaky chains...
---
Posts: 350
Joined: Wed Apr 30, 2008 1:19 pm
Location: Glenelg, Adelaide
Postby steveoc » Wed Feb 03, 2010 10:14 pm
JV911 wrote:

steveoc wrote:Eat 2-3kg of raw fruit every

2-3kg?

that's the equivalent of 20-30 bananas
Spot on dude
http://www.30bananasaday.com
Takes some getting used to.
2010 GT GTR Carbon Team
2008 Avanti Giro, Lime Green
"Middle Age" postponed for another year ...
---
---
Posts: 6386
Joined: Wed Aug 13, 2008 11:45 am
Location: Taking a break.
Postby twizzle » Thu Feb 04, 2010 9:35 am
Yep - I can't see the point of road-racing if you have to poop before, during and straight after.
Now... depending on the ripeness of the bananas, the quantities of fructose change. Can't remember the details, and the book it was in got loaned and never returned... so someone can go and look this up. But 'fresh' vs. 'very ripe' will have different effects on the body.
I ride, therefore I am.
...real cyclists don't have squeaky chains...
---
Posts: 581
Joined: Wed Oct 01, 2008 2:35 am
Location: Geelong, Vic
Postby snark » Thu Feb 04, 2010 10:02 pm
Ant. wrote:And yes, 7 is a really akward number, since there's 12 in a row inside the weetbix box
You know when you read something, and it just doesn't sound quite right?
My (1kg) box of weetbix has 11 per row, not 12. I have 5 for brekky, with a big wad of fruit, and I was sure there was just one left and not two after opening a fresh box.
Cheers,
Simon.
Phil Liggett, TdF 2011, Alpe-d'Huez: "I reckon tonight in hindsight he may have won the Tour de France tomorrow."
---
Posts: 758
Joined: Sun Oct 26, 2008 9:34 am
Location: Perth
Postby Ant. » Thu Feb 04, 2010 11:42 pm
Oh wow... you're right!
(At a guess, the riper the banana, the higher the fructose:fibre ratio, as they have a much more starchy (starch=fibre) texture when raw which seems to get broken down to mooshy goodness. Could be wrong here, it's just a guess)
Cervélo R3
Cervélo P3C
BT Blade
---
Posts: 15446
Joined: Fri Jun 29, 2007 7:49 pm
Location: Somewhere with padded walls and really big hills!
Postby toolonglegs » Fri Feb 05, 2010 6:39 am
30 banana's a day
...
...I meet a French fruiterian when in Bangkok many years ago.He had to suck a load of air in with all his fruit ...f'ing brillant at 3am in a shared room.30 bananas a day is 3500Kcal...with no fat...no wonder he was nuts.
7 weetbix...mmm...but boy they pack some kcals in those babies too...I am a bit hungry tonight...can you tell
.
Best thing about riding in France...boulangeries can be found everywhere...today I sucked down two pain au chocolates (choclate filled croisants)...yumster...and somehow I still managed to stay with in my restricted calorie diet for the day...did I mention I am hungry
.
But I did hit all my numbers for once...
Fat 110.8g
Protein 133.1g
Carbs 560g
Fibre 62.9g
---
Posts: 154
Joined: Thu Sep 17, 2009 8:00 am
Postby Aussiebullet » Fri Feb 05, 2010 6:56 am
nimm wrote:The problem is specifically sweetened things (including fructose) in refined form that's immediately passed into the bloodstream and in which case the liver has to metabolise. Naturally occuring fructose, such as that in fruit, always comes with fibre and other things which slow digestion (versus drinking sweet water/fizzy drinks/fruit drinks) and then bacteria and other processes come into play reducing the fructose the body ends up absorbing.

Also, in endurance exercise situations fructose actually helps (according to that Sugar video, but doesn't go into details). Something along the lines of producing glycogen faster than glucose. BUT this is in cases where the body is in deficit
Fructose in small amounts up to ~25g p/hr along with glucose up to 60g p/hr is a big performance help for endurance athletes and consuming this amount 2 or 3 times p/wk along with a well balanced diet high in fibre low in saturated fat
is a pretty good compromise compared to the avg couch sloth who dines on pizza and garlic bread 3 or more times p/wk then washes it down with a litre of coke to make room for the looming serve of cheesecake
http://jap.physiology.org/cgi/content/full/104/6/1709
In the link above it gets into a lot of detail but by reading the abstract then jumping down to the discussion at the bottom it goes into detail about the effects of consuming high/medium/low concentraions of fructose/glucose and just glucose and how the bodys stores of glycogen are effected and that during and after endurance training a large percentage of fructose does indeed get converted to glucose not fat and oxidized by muscle or stored in liver as glycogen but rates of absorbtion are less than glucose(maltodextrin) ~.4g p/min compared to glucose ~1g p/min
So what l take from the studies are up to 25g p/hr of fructose along with glucose up to 60g p/hr depending on the indivduals tolerance can:
increase performance (exersise duration)
spare muscle glocogen
reduce fatigue compaired to glucose only
reduce gastric upset copaired to glucose only
increase muscle/liver glycogen replenishiment during and after endurance training.
It's a clear winner in my book, with such a small amount needed (l consume ~280cal/hr at a 2:1 ratio) it has had no adverse effects on my liver funtion tests and lipid profile etc over the last 4yrs.
---
Who is online
Users browsing this forum: No registered users
About the Australian Cycling Forums
The largest cycling discussion forum in Australia for all things bike; from new riders to seasoned bike nuts, the Australian Cycling Forums are a welcoming community where you can ask questions and talk about the type of bikes and cycling topics you like.
Bicycles Network Australia
Forum Information