Camelbak Podium bottle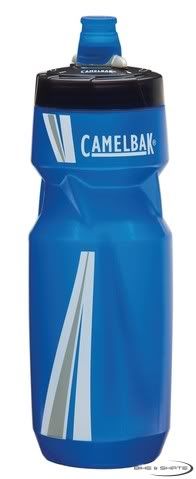 Where bought and price
Various bike shops around Perth as well as Mountain Designs. Prices range from $15 - $22.
How it is used
Daily whilst commuting & also used for crit racing and general riding.
Description
Like a regular bottle - with an improved lid / sucker. I've been testing the 700ml version but it also comes in a 600ml version.
Positives
+
Doesn't leak at all
+
Wide opening (for ice & cleaning)
+
No plastic taste
Negatives
-
Quite stiff plastic - not as supple as my older bottles. Little bit harder to squeeze.
-
Cost - I'd be annoyed if I lost or wrecked one of these.
Additional notes
My older more typical style water bottles were being pinched by my wife & then I was getting yelled at when they leaked in her handbag. Enter the Camelbak podium bottle. It was time to to replace my old bottles anyway.
These bottles have been standing up to daily use & freezing and I put em in the dishwasher with no hassles.
Reccomendation
Despite cost - I'll be buying more of these. They perform well & appear to be a quality item. No more handbag disasters either.
OVERALL SCORES
Quality
Top notch. And I'd expect nothing else from
Camelbak
Performance
Very good. I'd rather it was a little easier to squeeze though.
Value for money
Very $$$ for a water bottle.