b]Product - GT GTR Carbon Sport (09)[/b]
http://www.gtbicycles.com/aus/eng/Bikes/Archive/2009/Details/5757-G9GTRSC-GTR-Carbon-Sport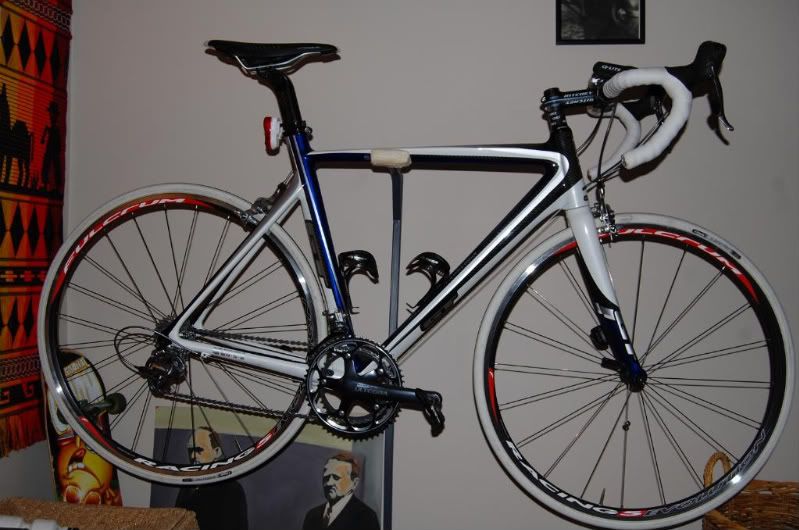 Where bought and price - Glen Parker Cycles South, RRP $3500 for 105 spec (This is a custom build so $$$ varies)How it is used - social rides, group rides, training, planning to race with itDescription
Fork and frame - Force Optimized, hi mod carbon, full monocoque (Asymmetric head tube and full carbon fork).
BB86 Press Fit Bottom Bracket
7800 Dura Ace groupset (Ultegra SL Crankset)
Ritchey Logic Pro Bars/Stem
GT Aero Carbon Seat Post
Fizik Arione saddle
105 Pedals
Vittoria Rubino Pro tyres
Fulcrum Racing 5 Evo wheelset
Positives
+
Very well made/thought out frame/forks
Excellent shifting and braking
Lightweight (High 7kg's I guess)
Super stiff
Different from the norm
Negatives
-
Paint job is not very well finished
Bars are too thin and the stem/bars flex
Pricey for stock set up (basic Mavic wheels/105 groupset)
Additional notes
In its current state it is a rock solid performer that is super stiff in the bottom bracket and head set (let down by the bars/stem), thus responds to riders steering inputs rapidly and transfers everything you have got to the back wheel. The bike is stiff enough to pick up most of the important feedback from the road yet supple enough to absorb the harshness; this translates to a bike that is excellent for sprinting/crits or 100km + sportif style rides. As you would expect the Dura Ace groupset performs flawlessly and offers excellent brake modulation (especially in the wet). The Fulcrum 5's may be on the lower end of Fulcrums scale but they offer superb speed and have limited flex, depending on which way you are inclined they also offer the soundtrack of a thousand bees when coasting
.
Reccomendation
If you are looking for a stiff, responsive, semi compact carbon road bike it is definitely worth a test ride. With a upgrade of wheels and groupset you will have a underrated weapon that is sure to surprise.
OVERALL SCORESQuality
7.5/10
Performance
8/10
Value for money
7/10