Thunderstruck compression shirtsWhere bought and price
Bought directly from Greg Mills at Pursuit Athletics.
Thunderstruck website
$45 for the long sleeve
$40 for the short sleeve
How it is used
Using the long sleeve for summer use to keep the rays off my arms, and the two short sleeves to wick away sweat at school after a PE class or at the gym.
Description
The garment has anti.bacterial and moisture wicking features so will keep you dry and odor free. Also aids in compression but for us cyclists with womanly arms, it doesn't do much. However, if you're a powerhouse of a sprinter who uses their whole body it could help after or during an all out sprint.
Positives
+
Short sleeve tops fit nicely, I only warmed up a bit, but that is expected from an extra layer regardless if its a summer top.
+
Can barely feel it after wearing it for half an hour or so
Negatives
-
Tore a bit of the stitching on the long sleeve top because it was a real PITA to take off, but I've come up with a technique.
-
Some sort of tag of the company logo isn't dyed onto the material, but rather made of a plastic which doesn't stretch. On the long sleeve top the logo has completely rubbed off, but prior stretching to tear the or get it prepped for wear is helpful
-
For me it's a bit tight around the chest. But I have a very large chest and barely a stomach at all.
Additional notes
I haven't thoroughly used it, but for what I've noticed so far it's a nice shirt.
Reccomendation
If you have the cash buy a Skins long sleeve top. But if you don't believe in that stuff and want a nice sports shirt for warm conditions or you're on a budget then this is definitely the way to go.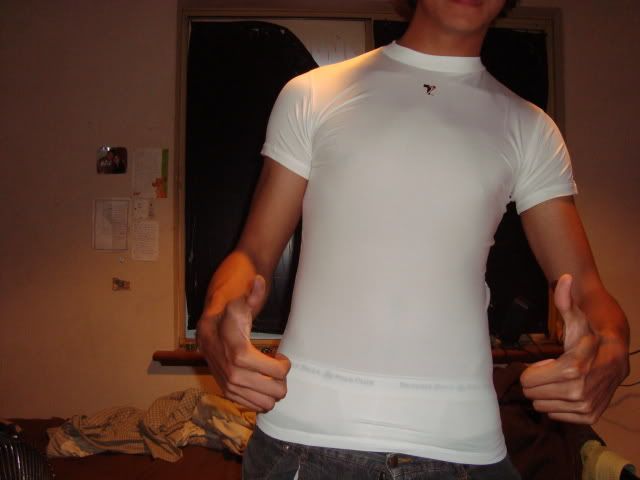 Pictures speak a thousand words... (thumbs up).
OVERALL SCORESQuality
Performance
Value for money
P.S. Sorry about the duct tape on my windows... My brother thought it would be hilarious
P.P.S Sorry about the low pants, didn't have a belt.... Well, couldn't be bothered finding a belt