Tioga TDMLS Dual LED Mini Light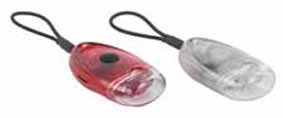 Where bought and price
LBS, $10 listed price, seen online for $14.95.
How it is used
Additional lights on the bike/helmet.
Description
A water resistant (silicone rubber seal on the body) "Be Seen" light, fairly bright, good visibility from a distance, takes two CR2032 batteries with a claimed 150 hour battery life. Comes in either white or red, for front/rear of the bike, and uses a cut little elastic strap so it can be mounted to bars/forks/stays/helmets etc.
Positives
+Easily fitted, very visible from a distance and at wide angles.
+ Well made, quality surface mount components, gold plated battery connections etc.
Negatives
- 150 hour battery life MY AR$E!!!!
Additional notes
I bought two lights, a 'white' for the front of the bike and a 'red' for the helmet. The 'red' was DOA, I swapped the batteries between the lights to check if it was the light or the batteries, and then exchanged the dead one. By the time I'd ridden home (30 minutes) the rear light had gone dim, so I swapped in some batteries that tested out at 70% charge (Ansnmann computerised tester). After 2.5 hours of use, the light was very dim and the batteries tested as '0% - flat', so I put in some new batteries which tested at 100%. After 1.5 hours of riding these batteries now tested at 10% charge, and testing the white 'front' light (four hours of use) also showed 10% battery. An additional hour of riding and the batteries still tested at 10%, but it was getting pretty dim. I got a refund on both lights and bought something else.
Recommendation
Avoid like the plague.
OVERALL SCORESQuality
Performance
Value for money