To begin I'd like to thank BNA for selecting me to be a tester for Bryton, and to Bryton for allowing members of the BNA forums to be testers/reviewers of their cycle computer products.
Now before I start going into depth with my review I'd just like to state that as a result of being selected as a tester of a Bryton cycle computer I was advised that I could keep whichever product I chose to test at the end. With that said I'd like to state that my below opinions have in no way, shape, or form been swayed by this fact and are
BIAS FREE
. I feel from having recorded 50 separate activities on the Bryton for a total of 1869 kms I am able to provide an informed review of the model I chose to test.
Now down to the nitty gritty.
As an owner of a Garmin 510 (with HRM and Speed/Cadence sensor) I was interested to see how well the Bryton 310T that I selected to test would compare considering its relatively lower entry price point based on comparable functionality (
$450
for the 510 and $269 for the 310T).
My current use of cycle computers is just to record my rides. I don't use any workout functionality, I don't own a powermeter and I generally ride as far and fast as I feel capable of. The vast majority of my activities are my daily work commute with the occasional weekend ride/sportive thrown in for good measure.
For specifics sake, I'm 44 yrs young, 85kg in weight (give or take a pizza or two), 190cm tall and of a reasonable fitness.
The Precious!
So the package is surprisingly small belying what it contains inside.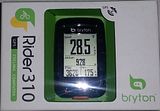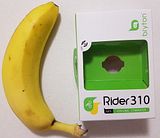 And this is what was hidden inside.
For the weight weenies, the 310T and its HRM are both lighter than that of the 510 and its HRM.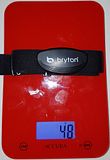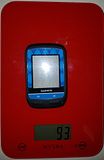 Setup
Being wireless, there were no major issues with setting up the 310T. I did make a minor error when placing the cadence sensor as I had it around the wrong way and it wasn't detecting, but that was my fault and not those of the instructions (pays not to skim). Fortunately I had some spare zip ties so this was not a major issue to reposition. The HR strap was of good size, easy to use and on par with what Garmin supply as a "Premium" strap.
I did have some confusion over working out how to use the 310T initially as the instructions that came with the unit were more like a quick start guide however I did some googling on the internet and found comprehensive instructions on the Bryton
website
. Armed with this additional information I was able to delve through all the functionalities that the 310T performed and get my setup right.
First Day of Testing
On my first ride with the 310T which was an early morning dash to work, the heart rate and cadence sensors did not get picked up on initial unit start. As I was already running late for work and couldn't wait a
WHOLE
60 seconds it was likely to take to power the unit back off and on again, I didn't restart the 310T and just hoped that it would detect both items as I rode along. Unfortunately that was not the case as can be seen in the data below.
510
Distance: 25.3kms
Time: 58:35
Avg speed: 26.0km/h
Avg Cadence: 86
Avg HR: 119bpm
Elevation gain: 239m
310T
Distance: 25.2kms
Time: 58:16
Avg speed: 25.9km/h
Avg Cadence: -
Avg HR: -
Elevation gain: 192m
Ignoring the elevation totals (which I'll talk about later in this review), comparing the data that was recorded by the 310T against that which the 510 also recorded, straight off the bat it was looking very good. This led me to hope that when the HR and Cadence actually detected correctly, it also would be of a comparable nature and I was only a day's work off being able to find out…
So for the trip home that afternoon the HR/Cadence sensors detected on unit boot! Woohoo win!! Unfortunately due to my forgetfulness because you know getting Live Tracking running on Garmin Connect, starting my VIRB
AND
pressing start on
TWO
cycle computers was too much for me to remember to do, there's a slight discrepancy in the time and distance on the data below.
510
Distance: 47.0kms
Time: 1:41:48
Avg Speed: 27.7km/h
Avg Cadence: 89
Avg HR: 135bpm
Elevation gain: 340m
310T
Distance: 46.5kms
Time: 1:41:01
Avg Speed: 27.6km/h
Avg Cadence: 89
Avg HR: 135bpm
Elevation gain: 243m
Barring my incompetence above, again the data was very comparable with Cadence and HR figures spot on with the 510 (as you would hope something that basic would be), and the avg speed again only a fraction off.
This was a constant occurrence throughout all the recordings that I undertook with both units – time, distance, avg speed, HR and cadence were always very similar (at the bottom of this review I have some screenshots of the spreadsheets I created to compare the ride data between the 310T and 510 so you can judge for yourself).
Final Day of Testing
On my last test ride with the 310T I attempted my first ever ride up Mt Donna Buang, in the pouring rain no less. Everything started nicely however on the way up, both HRMs I was wearing lost contact with their respective head units, and the cadence on the 310T was dropping in and out. I'm not sure whether it was due to the conditions or something else but the HRMs each stopped approximately the same time and no amount of fiddling around with them would get them working again. Thankfully GPS was still working fine and by the end of the ride I had two data records that were pretty close.
510
Distance: 17.6kms
Time: 1:24:53
Avg Speed: 12.5km/h
Avg Cadence: 78
Avg HR: -
Elevation Gain: 1100m
310T
Distance: 17.3kms
Time: 1:25:18
Avg Speed: 12.2km/h
Avg Cadence: -
Avg HR: -
Elevation Gain: 1087m
Now onto the HITS and MISSES of the 310T
The only two issues that I
REALLY
experienced with the 310T, one infrequently (1) and one quite often (2).
As I only had a cadence sensor for the 310T as opposed to the speed/cadence sensor I have for my 510, the 310T obviously was reliant on GPS for recording distance/speed data. Due to that, under certain conditions the current speed on the 310T would vary significantly from what the 510 was reporting.

This was only really observed when riding through an extended amount of consecutive underpasses, or when riding around areas of thick overhanging trees. In the tree scenario I'm assuming that the 310T was having issues with obtaining a consistent GPS signal and subsequently speeds reported were at times up to 10km/h slower than what I was actually travelling. A similar issue was experienced in underpasses, the 310T would incorrectly report current speed and occasionally would lose contact with satellites completely causing the recorded speed to drop to zero. This was not entirely unexpected and I'm sure with a speed/cadence sensor this would not have been a problem at all. Also just to tidy this point up, satellites were detected again not long after escaping underpasses.


Outside of my very last day of testing, elevation figures for EACH activity on the 310T were always considerably lower than that reported by the 510. On some occasions there was over a 50% difference!

For total elevation gained across all recorded activities the 510 reported my gain as 15,839 metres and the 310T reported a gain of 11,370 metres. That's a difference of 27%. The only ride where the elevation was almost identical was my ride up Mt Donna Buang. The 310T reported 1087 metres of elevation and the 510 1100 metres of elevation. Based on all the previous results I was certainly not expecting that (and I do believe that elevation is close to what others get for Mt Donna Buang).

Now the issue here is, which one is reporting elevation correctly? I know some people believe that Garmin's report elevation incorrectly and I know from experience that I can ride the same route multiple times and the elevation on the Garmin will vary, but not usually to the extent that was reported by the 310T.
Hits
If your HR or Cadence isn't detected, the main screen readjusts itself so that these fields are not displayed and the remaining fields become larger on the screen.
If you are recording laps, a lap page automatically is added in to the list of pages you can scroll through and similarly it's not shown if you're not.
HRM, Cadence and for the most part speed were spot on most of the time.
I rode up Mt Donna Buang in the pouring rain and there were zero issues with water getting into the unit, or the screen fogging up or anything of the like.
With Smart pause, when you come to a stop, the speed drops to zero instantaneously and the unit stops recording. This is unlike the 510 which usually takes a few seconds to show your stopped speed as zero and subsequently the timer keeps ticking over. Every second counts on strava segments!
HR strap fits nicely and rarely did I have any issue with it picking up my heartbeat.
You can see how much of the memory you have used up saving your ride data, courses, etc. Also if your memory is full, the cyclecomputer will automatically start overwriting older records.
Battery life was impressively good.
It records all the same information that I find most useful to me when checking my ride info (HRM, Cadence, Dist/Spd), but at a considerably cheaper price.
Miss
It takes a bit longer than I'm used to to pick up satellites. Not a major issue if you're not in a hurry.
Setting a specific location as a lap reference point is rather convoluted and if memory serves, cannot be done whilst in the middle of recording a ride.
The button positions are a little awkward and probably would have fared better had they been on the side rather than all along the bottom.
Trying to scroll through the settings using the buttons and the way that those buttons work is hard going.
Touchscreen would be handy.
The Bryton
website
would appear to be in its infancy. While it's not Strava, it's not that bad either, it just takes a bit of getting used to working out where everything is. The data that I was interested in was readily
available
and worst case scenario, you can transfer ride data to Strava (however I did not test this functionality).
To sum up my experience with the Bryton, I can honestly say that overall I'm really happy with the results. To top this off, what you get for your hard earned dollar is top value. It has all the same functional requirements that I use in the more expensive Garmin 510 and works almost equally as well. This is definitely a cycle computer I would recommend to someone who was looking to upgrade from something very basic, or someone who was getting into cycling a little more than just your average Joe rider. Two thumbs up.