Hi folks,
About 2 and a half Months ago I purchased a new Vivente Patagonia from Omafiets Dutch cycles in Redfern Sydney and I thought I'd write a short term review of this bike.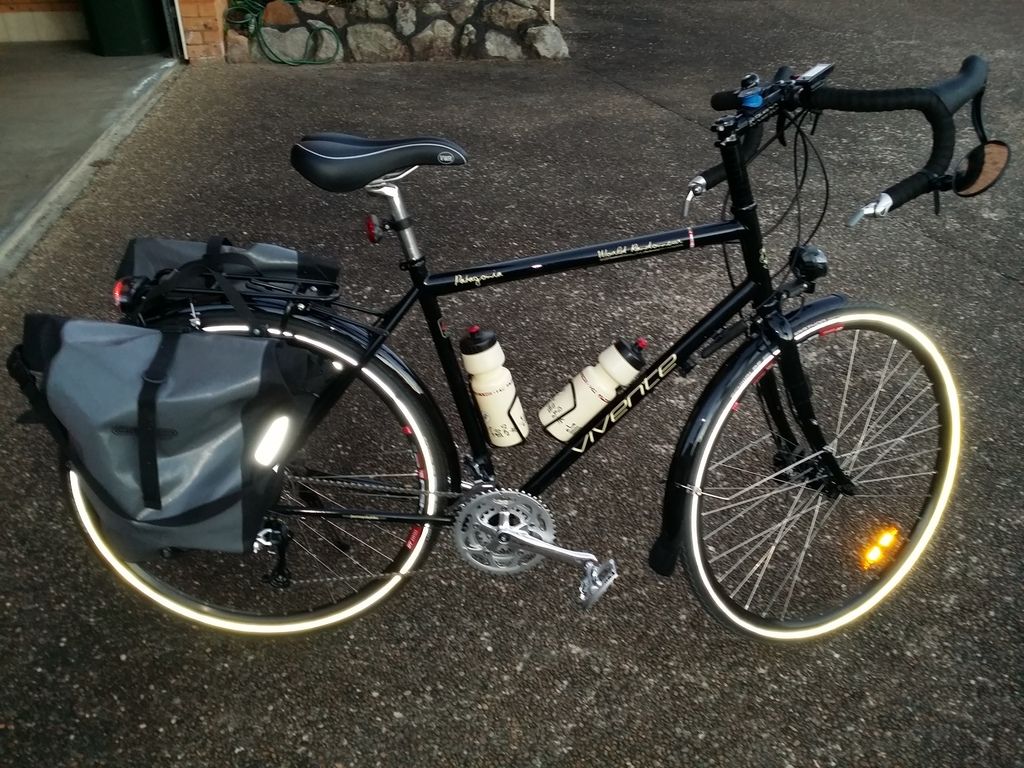 I previously had an older 2013 Vivente with front mech disc brake and canti on the back, the tekking bar model with Deore rapidfire shifters similar to the current Anatolia, but have sold it now as I wanted the Patagonia. I was interested in either the Deccan with drop bars and Sti shifters but mech. discs on both ends as well as the Patagonia with barend Durace shifters and hydraulic TRP brakes on both ends but after test riding both not knowing if i could live with barend shifters, I actually loved the concept and found it a non-issue to get used to them and i loved the power of the hydraulic brakes so it was a no-brainer for me then which one to choose.
I've been mostly riding the new bike to work and it's a breeze, the better AXA70 lights run off the SP Dyno hub are pretty darn good and will stay on in a dimmer light for around 5 minutes when waiting at traffic lights as does the rear light...it was so much brighter than the headlight on the previous Vivente which was adequate but not great.
The beam length and width are pretty good and I can see a decent way in front of me as well as out the sides so i'm pretty happy with this set-up. Haven't tried the USB port to charge my phone yet, gotta buy a new cable just for that.
The pedals are Shimano SPDs with clips on one side and a flat on the other catering to any shoes I choose to wear, they are of a good size too with the non-clip side having a decent platform and support for ordinary non-SPD shoes.
The bar-end shifters are great but sometimes i find a bit of a lag in the changes at the back but nothing to get concerned about, maybe initial stretching perhaps, might get it adjusted if it gets worse.
One of things that i noticed when after taking off my front Tubus racks from the older bike to put on the new one was that the mounting points on the front forks were different, in fact the whole fork was a different design than the older one...so got the bike shop to fit them for me so i can see how they've mounted them. The racks now seem to be tilted a bit forward now compared with the older bike but i don't think it'll make much difference and haven't had a chance to put the front Ortliebs on it yet.
The seat is much nicer on the butt than the older style but i think I may have to put on a shorter stem as the reach and height is just a little out of my comfort zone...a little too much stretch but maybe that's just my tired old body not adapting as well as I hoped
But apart from the slightly long stretch, the bike is comfy, easy to ride, feels solid and smooth on the road, brakes like super stoppers with little effort.
As well as being designed for being a touring bike, it's also a fantastic commuter, not exactly light weight at 14KG's but it holds the road with a solid feel.
One of my concerns was touring with hydraulic brakes and if boxing up the bike and putting it together would cause trauma to the Hydraulic cords etc. but after having a chat with Noel McFarlane who often tours with Hydraulic brakes on his Vivente, he assured me it's the best way to go and shouldn't worry about it. The only thing i need to be wary off is that if I have to take the front wheel off, is to not touch the brake levers (not always so easy to remember) and place the imitation rotor disc in between the pads to stop them from closing up.
Another thing i noticed only last week when i took the bike on the train so i can go for a city ride was that the front tyre was a Shwalbe Marathon 700C x 32 whilst the rear was a Shwalbe Marathon 700C x 35. Don't know why that would be or if it'd make any difference but i thought rather odd and never come across 2 different tyre sizes on a brand new bike.
As you can see I'm still discovering new things on the bike i may not have noticed or realised straight after purchasing....
Overall, I'm very happy with the Patagonia and wanting to get more time on it, it really looks and feels like the touring bike it's designed to be. Hopefully in the future I can update this review with a longer term review after a few thousand kms under the belt.
At a RRP of $2,749 is it worth the money? well I think so, compared with other like touring bikes I've seen and read about, it's up there with the best in it' price range, if not better with the gear that's included in the price like hub Dyno's, Hydraulic brakes, mudguards etc, you should see the accessory box that came with it...holy smokes, I don't know what or where half of the stuff does or goes but with a bugle horn and a disc spacer, a heap of different size brackets, spare 14g ss spokes etc....sure there's more expensive tourers out there especially those fitted with the Rohloff Hub gearing or pinion gearing systems that are actually built into the frames when they are made, but they are up around the $4500-$6500 mark.
So to finish off this review, I'm very happy with my choice of purchase, time will tell how it goes in the long term but the bike is well built, i'm not a light bloke at 110kgs so if it'll cope with me and some luggage, I'd say i'm on a winner here
Cheers
brumby33