hi a few weeks back I picked this up in my back wheel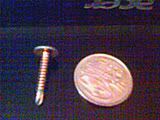 That a $0.20 cent coin
Pick that up about 2km's for home got home with it in wheel. Pulled it out, spinned the wheel a few times pumped up but will not hold over 35ish PSI.
It will seal and hold below that fine but is just a bit soft for we.
What should I do/try ????