16" wheel versus 26" wheel
Back in the early 1990s I bought my first Greenspeed trike, a GRT 20"/26", which as the figures imply, had 20" wheels on the front and a 26" rear wheel. It is a comfortable, long legged beast, which I have used to cover many thousands of kilometres. At this stage I lived on the "Flatlands" (Subiaco/Daglish in Perth) and riding into Perth city along the riverside I found it quite easy to average about 21 km/h, even into the head winds. I'd managed to crank up to a tail wind assisted maximum of about 50 km/h on several occasions, but I'm not usually interested high speed, preferring comfort.
It had always been my intention to add electric assistance, and in about 2007 or so I had the merry crew at Greenspeed build a rear wheel with a Heinzmann 200/400 watt 24 volt motor. (200 watt constant power, 400 watt peak power.) When asked whether I wanted the motor gearing to favour high speed or high torque, I chose, living as I do in the Hills behind Perth, the high torque to make it easier to ascend Welshpool Road. Initial experiments indicated a maximum (non-pedal assisted) top speed of about 25/26 km/h, but even with the extra weight of motor and batteries I could still crank up to over 45 km/h in still air, but with a downhill run.
The batteries were 2x 12 volt lead acid wired in series to supply 24 volts, and with a capacity of about 12 amp/hours.
The bathroom scales indicated an all up weight of roughly 38 kg
Whilst the motor itself was seldom used on the flat, except for take off at the lights, it was invaluable in ascending hills, even though I still had to put a fair bit of my own sweat and muscle into it.
A couple of years ago, I decided to upgrade and purchased a Greenspeed GTIII with 16" wheels all the way round, and the same type of motor in the rear wheel, with the same size and capacity batteries. Again, I specified high torque, and knowing that I was going to be using my BoB trailer quite often, I asked Greenspeed to set it up for climbing hills and pulling heavyish loads (the BoB has a capacity of 30 kg), and so the gearing was very low all round.
I wanted to check one trike against the other to see whether it would be worth while keeping the old one or trading it in. However, the old trike (which I call "Proud Mary", because of the big rear wheel) was starting to look (and feel) its age, so I decided to be fair I'd have it renovated, and brought up to a comparable standard as the GTIII (named "Spider Trike" ... or "Spikey" because it climbed hills the way Spiderman climbed vertical walls) so I dismantled the majority of bits, and gave the Greenies the frame and a list of upgrades , including replacing the steering kingpins, front wheels, brakes, and most importantly, fitting a proper rack for the batteries, which were mounted on the carry rack up behind my head, which caused the trike to sway a bit in hard cornering, as the batteries tried to wrench the carry rack off. The brakes (Sturmey Archer drums) were the originals from the early '90s and seemed to be having a tough time pulling up the trike with all the extra weight I'd added over the years (and even extra weight on the trike with batteries and motor).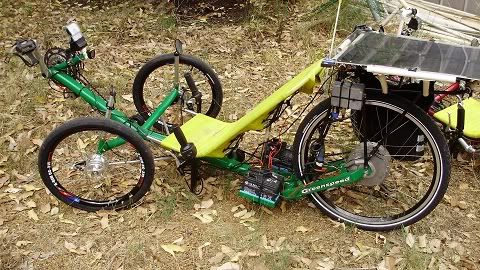 Showing old solar panels and old battery mount, compared to new. Batteries in blue box.
The other major reason for the renovation was to spread the rear forks to enable the rear wheel (with the motor) to drop out easily. Because it was such a tight fit, even with all the facilities of my friendly local bike shop it was a 2 hour marathon to fix a flat tyre on the rear.
With a new powder coating of green, wheels, brakes, etc, I reassembled it over a couple of weeks (no rush, I had Spikey to keep me company, as well as a Giant "Boulder" for hacking around the suburbs and shopping, towing the BoB).
In about 2009 I'd fitted Proud Mary with some on-board photovoltaic panels to keep the batteries topped up while it was not in use, and to add a little extra distance before the batteries went flat. When Spikey arrived I duplicated the set up so I now had a system which just about guaranteed I would always have some e-power at my disposal at all times.
The PV panels were fairly ancient and not putting out too much power, so I got rid of them and replaced them with "concertina" panels, 2x12 volts at 10 watts per trike. Theoretically I should be able to put 20 watts into the batteries during daylight hours.
So in November 2011 I had no more excuses. I had two trikes, which, except for frame size, wheels and gearing, were pretty much identical. So I allocated a bunch of weekends in November and early December to try each one out and see what happened. I already had a fairly comfortable loop of about 85 km worked out a couple of years ago, which gave a reasonable mixture of cyclepath, suburban backroad, riverside flat, wind directions and the occasional small hill, terminating in a 5 km ascent up Welshpool Road, which has an average gradient of about 6%.
The first day out (Sunday) was on Proud Mary, and I took my usual, 3 litres of ice in bidons, which melted during the ride and gave lots of cold water, plus a fairly hefty lunch, ham salad roll, two trail bars, some fruit cake and some peppermint lollies for a sugar boost.
One of the major differences between the older trikes and the newer ones is that with Proud Mary the seat is clamped around the main tube of the frame, whereas the new ones the seat is integrated into the frame, and adjustment for leg length is done by moving the boom holding the cranks and chain rings. I've had to be fairly ingenious over the years to prevent the old seat tipping sideways under hard cornering, so I've found that glueing some light leather inside the clamp provides sufficient friction to hold the seat upright. However, I have to remember to use the Allen key to really screw it up tight. After a couple of kilometres, I turned a corner hard and felt the seat starting to rotate. Whoops. Out with the Allen key and PUSH. The other thing I'm not keen on is the angle of the seat, now that I've got the photovoltaic panels fixed on the back, means I cannot put my head right back in a relaxed position (no head rest). That's nothing to do with the trike though, that's a problem I've created for myself. After 85 km, my neck got a bit sore.
For the first 30 or so km, everything went very well. Initially, I headed down Welshpool Road hill, and maxed out at 81 km/hr, and on the flat I was able to keep cranking at well over 40 km/hr for about 3 km, until I finally had to stop for the lights at Tonkin Highway. Even with the 26" wheel, there's a fairly brisk take off, when combined with a concentrated push. I beat the cars nearly all the way across the intersection, and continued at about 32 km/hr until I reached the overpass bridge over the railway line at Roe Highway. Once over that bridge I was then on the Roe Hwy cyclepath, mixed use pedestrian/cycle, and my average speed was still showing well over 32 km/hr, but obviously starting to drop. There was very little traffic either way and the high gearing enabled me to cover the flat track quite quickly. After crossing the Canning River I turned down onto the cycle path which then became quite labyrinthine, designed more to go around trees than follow a straight line. Since I'd only used the e-assist on a couple of occasions my batteries were still pretty well fully charged, and as I travelled along, I moved in and out of shadow and I could see my ammeter flicking up and back until after about 5 km the regulator cut in, telling me the battery was again fully charged and would hold no more. Around Langford and Ferndale I swapped between the road and the cycle path, as there was very little automotive traffic, and the road was much faster.
Since the roads and the track were pretty well following the river they were fairly flat and I was able to keep the average speed up in the high 20s. I was still feeling pretty fresh, although I noticed that the "hot foot" occurred. This appears to be reasonably common amongst 'bent cyclists, and may have something to do with the position of the feet, vertical, out front. It feels a bit like the blood circulation is being restricted and the feet start to get uncomfortable. However, I usually get around this by taking my feet from the clips and straps, and resting them at the Achilles tendon, one at a time, on the pedal, then swapping over. Since the speed drops down it becomes worthwhile to use the motor. I'll recover the power from the solar panels and recharge the batteries.
The climb up to Mt Henry bridge is fairly easy, and then along the Kwinana Freeway approaching the zoo the breeze is usually from my left. Up until here there's been either no breeze or it's a moderate headwind. I usually plan to make my first break at the end of the Narrows Bridge, where I have a freshen up, drink, etc. At this point my average is still about 24-25 km/hr, but I know from here it will start to drop, as the amount of traffic on the cyclepath increases, as well as the serpentine looping of the path means I can't go flat out. I can usually crank faster than the motor will take me until I reach here.
Along the South Perth foreshore is usually a tail wind until I reach the Burswood Golf course, but since there are usually dozens, if not hundreds of people having family outings along here, slow speed is advisable. This particular day I went past one 'bent bike and two bent trikes heading in the opposite direction.
Once I reach the Belmont Park racecourse I usually go up onto the top of the cliff near the Sandringham Hotel, and risk a short ride on Great Eastern Highway, as it's mostly down hill and traffic is not particularly quick.
However, this day, once I got onto GE Hwy, I found there was some serious traffic disruption from roadwork, and I had to get right in amongst the cars until I got past Belmont Road. Again I found it fairly slow going here since there is a lot of new road for the new riverside estates, as well as families. I crossed over Grandstand Road, and went on the riverside of Ascot racetrack, which is a very narrow track, with lots of little bumps and is not conducive to fast riding. At about a metre and a half above the river level, and almost over the water itself for part of the ride, it's otherwise a fairly interesting section. Once I'm past the racecourse, I stop for lunch on the trackside bench, remembering to leave the trike parked in the sun to recharge the batteries. It's about half an hour or so and I'm starting to feel the pain in the legs and neck, but eat and drink does wonders.
The redevelopment of the Ascot Motor Inn site causes a fairly length detour, but eventually I get back down by the river, avoiding most of the horse manure on the road. Under the Tonkin Highway takes me onto the boneshaking wooden bridge through the wetland, where I can only do about 3-4 km/hr, but it's only a couple of hundred metres. The ground flattens out and the track straightens up so I can crank along quite nicely until I hit Garvey Park, where there are usually a few dozen families having a picnic. I turn onto Hay Road and follow the track until I'm running beside GE Hwy. However, since most of the traffic seems to be going down the bypass, I don't mind getting onto the road until I hit Kalamunda Road. This is pretty well deserted until it crosses the GE Hwy Bypass and I'm heading down past the cemetery and the airport. Although there's a "cycle path" painted on the verge in places, it's pretty rough (especially with the wide wheel base of the trike), but I'm able to get up a fair head of steam, but by this time I'm starting to feel a bit tired, both mentally and physically. I've only got about 16 km to go by this stage, but the worst is yet to come.
Just before reaching Roe Highway I usually have a break, and either zip across to the shopping centre and buy a caffeine laden cola or drink one I've brought from home. The fatigue is starting to catch up, despite the caffeine, and I'm really slowing down. The average speed has dropped to about 21 km/hr, and I can't even crank to that speed, so I'm using the motor a bit, but keeping an eye on the ammeter and voltmeter, because I want to have as much power as possible for the Welshpool road hill.
Rather than go straight up Kalamunda Road or Gooseberry Hill road, which would mean I'd have to ascend and then come back down again to get to Lesmurdie, I usually go down Hawtin Road, then Anderson Road, and round onto Welshpool Road for the final assault.
I stop at the bus shelter at the foot of the hill, park the trike in the sun and eat the last of my food and most of my water. With the high gearing of the 26" wheel, and the high temperature (33+) the motor overheats several times and shuts down because of the thermistor. I still keep cranking but only at about 5-6 km/h (I'm pushing 38 kg of trike here) and I watch as the average speed drops and drops. I've found through experience that it's easier to turn left onto Melaleuca Road, even though the corner itself is probably 12-14% or more. However, it's only steep for a few hundred metres, then it flattens sufficiently to enable me to just use the motor on its own, to take me to about 14 km/hr. However, I've not allowed sufficient time to cool down, so it shuts down again ... and again, although the batteries still have plenty of life. Finally, up Kell Rd onto George Road and home.
The average speed has dropped down to 18.2 km/hr over the 85 km ride. Once I'm up onto Grove Road I'm able to hit the motor again, and up to about 20 km/hr ... then shut down. Bugger it. I'll pedal from here, it's only about a kilometre.
So here endeth the first of two rides (or so I thought).
A couple of weekends later I took Spikey for the same trip, under pretty much the same conditions. At 33 kg Spikey is a bit less weight to push, but because of the low gearing it takes a fair bit of effort to spin up to 35 km/hr. Heading down Welshpool Road I hit 78 km/hr and found the average speed was dropping since I couldn't get up to the same top speed as Proud Mary.
I won't repeat the trip, since it was pretty much the same, except that with the lower gearing, I found it a bit more comfortable and less tiring. There's a head rest of sorts on Spikey and the panels are a bit further back, so the riding position is more comfortable as well. Last year I did buy a larger big chain ring, but it still wasn't big enough to get me up to a sustainable higher speed, and after having my first break at the Narrows underpass, I proceeded along the South Perth foreshore until I reached McCallum Park, where there was a huge crowd of people and cars for a 4WD exhibition, and I had to take a fairly major detour to go around it. Once I was past I turned back towards the river but had to get off and push because of the soft sand. I suspect that this is where the seeds of my demise were sown, in that the derailleur, with a 16" wheel, is VERY low to the ground at certain times, and maybe it struck a rock. I stopped to have lunch and chatted to a delightful young student from Brazil who was here studying English, and she found the trike quite fascinating.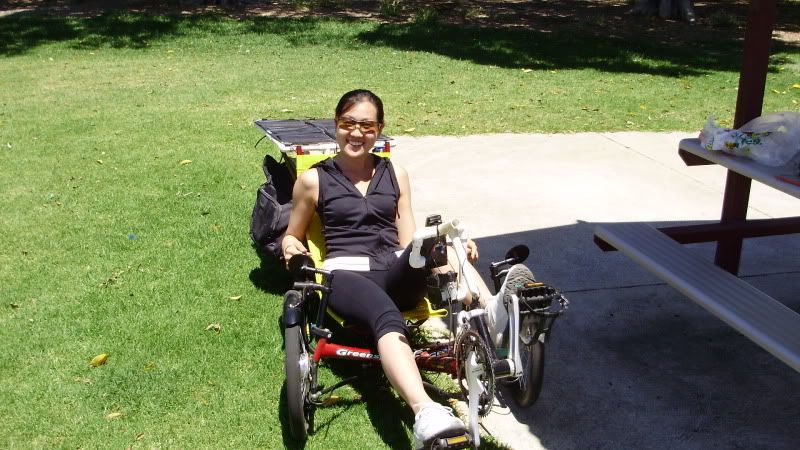 Student on foreshore
Showing derailleur close to ground.
I took off after the break and as I was heading towards the Burswood Golf course the derailleur flew to bi