JAMES DYSON AWARD 2013:
DISCOVERING THE WORLD'S NEXT GENERATION OF INVENTORS
Bicycle safety illuminated in the 2013 James Dyson Award
Torch Helmet. Inventor – Nathan Willis (Art Centre College of Design, Pasadena)
Each year the international James Dyson Award sees student engineers and designers from around the globe aim to solve everyday problems.
Cycling safety is once again in the headlines. In Australia and internationally it would seem, with two US James Dyson Award student inventions, tackling this very issue.
Around 18% of Australians cycle in a typical week, with 1.6 million using their bikes for transport. These numbers continue to grow - in terms of both recreation and as a mode of commuter transport. According to the Australian Bicycle Council, a National Cycling Strategy aims to double the number of Australians riding by 2016.
In Australia, organisations including Safe Cycling Australia continue to raise awareness of the problem; lobbying Government for laws which will further protect cyclists on the road. It's a slow process. Alongside this they agree innovation in cycling is also required to achieve benchmark safety standards.
'Whilst we will continue to lobby for laws that protect cyclists, we also advocate that cyclists must take their own safety seriously. Visibility, particularly at dawn and dusk is critical. It's great to see young inventyors designing products that will help ensure cyclists are highly visible. And an integrated helmet and lighting system is a clever idea too.'
David Sharp
About the James Dyson Award projects:
Torch Helmet (pictured)
http://www.jamesdysonaward.org/Projects ... Winindex=0
Designer Nathan Willis explains existing bicycle lights use several LEDs clustered together and pointed in the same direction. While they create a bright light, it is very small light and easily washed out by larger, brighter automobile lights.
Torch features ten LEDs that back-light two shatter proof polycarbonate lenses on the front and rear of the helmet. The lights are visible from 360 degrees and because they are in the helmet, they are visible above most other objects on the road.
The integrated unit features batteries sealed within the helmet to power it, and can be recharged over a USB connection.
Revolights
http://www.jamesdysonaward.org/Projects ... Winindex=0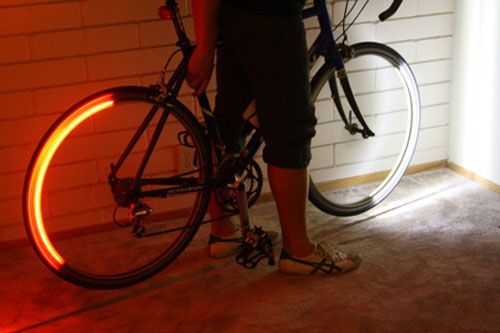 Inventor Kent Frankovich was riding home from university, using a conventional handle-bar mounted light, when he questioned why the light source needed to be so far from what it was meant to illuminate. He wanted the light to be closer to the ground.
Unlike conventional bike lights that project light in one direction, Revolights cast 360 degrees of illumination making them easier for others to see. Two narrow rings of LEDs mount directly to each wheel. Slim, lightweight lithium-ion batteries supply power to the LEDs and can be charged via USB.
Revolights. Inventor – Kent Frankovick (Stanford University, University of Texas, Austin)
James Dyson said: "Young design engineers have the ability to develop tangible technologies, which can change lives. The award rewards those who have the persistence and tenacity to develop their ideas – it is an exciting but challenging process. Often the simplest ideas have the biggest impact."
The prize:
This year the award's prize fund has doubled to help winners meet the costs associated with developing their ideas. The international winner will receive $45,000 to develop their invention, and a further $15,000 will be provided to their educational institution.
About the James Dyson Award:
The award, run in eighteen countries, celebrates ingenuity, creativity and sustainable engineering. Inspiring young people to think differently and invent.
Inventors are encouraged to design and develop their ideas, doing more with less. This leads to fewer raw materials and the consumption of less energy, creating a technology that will perform better and last longer, while having less environmental impact.
Entrants have until 1st August 2013 to enter by submitting prototypes along with stories detailing their design process and inspiration.
Entrant's projects will be scrutinised by judges around the world as well as Dyson design engineers, before James Dyson announces the international winner on 7th November.
Australian student inventors successful won the international James Dyson Award in 2010 and 2011 (please see additional information in the notes section).
For additional information please contact: *****************************************************
ENDS