News & Reviews on BNA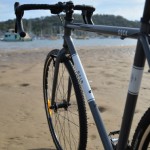 If you visit Melbourne, Sydney, Brisbane, Perth or Adelaide, you stand a good chance of spotting a Reid bike somewhere in these cities. The Australian company can still be described as a new-comer to the market, but they have expanded swiftly and are now selling in Europe and the USA as well. Reid's strategy is […]
Posts: 21392
Joined: Tue Jun 05, 2007 1:55 pm
Location: Fremantle, WA
Contact:
---
Posts: 7865
Joined: Mon Aug 24, 2009 2:08 pm
Location: Brisbane, Queensland
Contact:
---
---
Posts: 1275
Joined: Thu May 24, 2012 11:01 am
Location: Snug, Tasmania
Postby rangersac » Thu Mar 13, 2014 1:21 pm
Already listed. Worth a second posting though I reckon!
De Rosa Macro | Trek Superfly 100AL Elite | Claud Butler Sovereign | Titus Motolite
---
Posts: 3294
Joined: Tue Aug 26, 2008 10:45 am
Location: Lake Macquarie
Postby gorilla monsoon » Thu Mar 13, 2014 5:49 pm
Gasp! He wasn't wearing.....gloves.
Won't climb, can't sprint.

Roger Ramjet: Giant CRX3
Lady Penelope: Avanti Cadent
Barry Allen: Specialized Sirrus Expert
---
Super Mod

Posts: 28099
Joined: Sun Sep 24, 2006 2:41 pm
Location: Sunbury Vic
Postby Mulger bill » Thu Mar 13, 2014 6:30 pm
Mod note: Duplicate threads merged.

Shaun
...whatever the road rules, self-preservation is the absolute priority for a cyclist when mixing it with motorised traffic.
London Boy 29/12/2011
---
Who is online
Users browsing this forum: No registered users
About the Australian Cycling Forums
The largest cycling discussion forum in Australia for all things bike; from new riders to seasoned bike nuts, the Australian Cycling Forums are a welcoming community where you can ask questions and talk about the type of bikes and cycling topics you like.
Bicycles Network Australia
Forum Information