Don`t know if it`s ok in here or in Halfway Cafe subforum.
News.com.au of Dubai Police Hoverbikes.
Hoverbikes in Dubai: Police add Hoversurf S3 to their vehicle collection,
MOVE over Robocop. Dubai police have added some seriously cool hoverbikes to their arsenal of crime-fighting tech toys - but the officers had better hope they don't get caught up in any lengthy pursuits.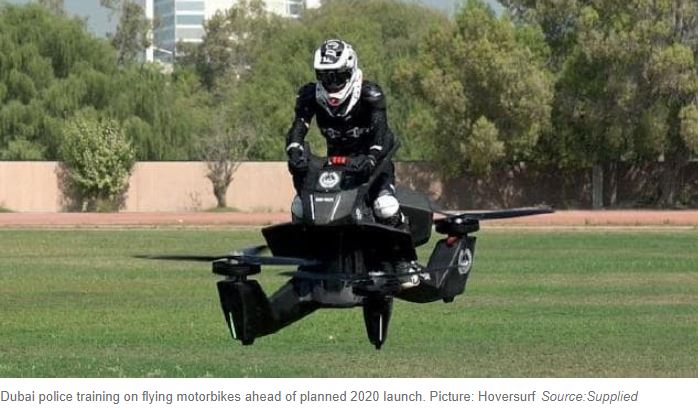 DUBAI police could soon be swooping in on crims from the sky.

The Middle Eastern nation's cops have been caught training on hoverbikes that they claim will help first responders reach difficult areas more easily.

It marks another extravagant addition to the country's police force, which already has a Ferrari and Lamborghini among its crime-fighting cars.

And the robocoptors could be one day be piloted by robocops, with Dubai eager to have robots alongside regular police by 2030.

Hoversurf - a Russian-owned company based in California - has gifted Dubai's police its first serial production of the electric vertical take-off and landing (eVTOL) vehicles after a deal was signed last year.

The company's chief operating officer Joseph Segura-Conn said the force could order as many of the $150,000 ($A206,000) hoverbikes as they want.

"They're going to let us know in the next month or two if they'd like any more ... If they would like 30 or 40, we'll make it happen for them," Mr Segura-Conn said, according to CNN.

Police could zip around as high at four metres off the ground atop the 115kg Hoversurf S3, which can reach a maximum speed of about 100km/h.

But they better hope they're not caught up in any lengthy pursuits. The futuristic vehicle can only be piloted for no longer than 25 minutes, although they can operate for up to 40 minutes if used as a drone.
What if it malfunctions in midflight and careens down to unhelmeted peds in public???
Hey criminals, you`d better have a lot of training to try to outrun them before they get it in operations soon......