Popular Bike Shops
Wiggle
UK
Join the Cycling Forums on Strava
Australian Cycling Forums on Strava
Posts: 447
Joined: Fri Apr 08, 2011 2:03 pm
Contact:
Postby darkelf921 » Tue Aug 23, 2016 4:57 pm
I present you with my new Cannondale Slate. It's a machine!
https://www.instagram.com/p/BGut5YvpVnp/
---
Posts: 87
Joined: Fri Feb 14, 2014 1:37 pm
Postby alrsv1 » Wed Jul 26, 2017 2:35 pm
alrsv1 wrote:Owned this from new and I sold to a mate, who sold it to another mate, whom I stole it back from. (Well he never used it so that's fair right?)

1992 Cannondale M2000, originally with Deore XT and Ritchey Logic components. Looked like this originally:

Been through a couple of different incarnations, was a single speed for a while using a White Industries Eno eccentric hub:

Up until recently it was my daily commute in it's current form:

Now relegated to a pub bike but I'll never sell it.
And now, it's getting the full restoration treatment. It won't be 100% accurate as some things are a pain to get hold of, e.g choices of 1-1/4" quill stems are limited so will be running a modern stem/bar combo. But I'm liking the colour....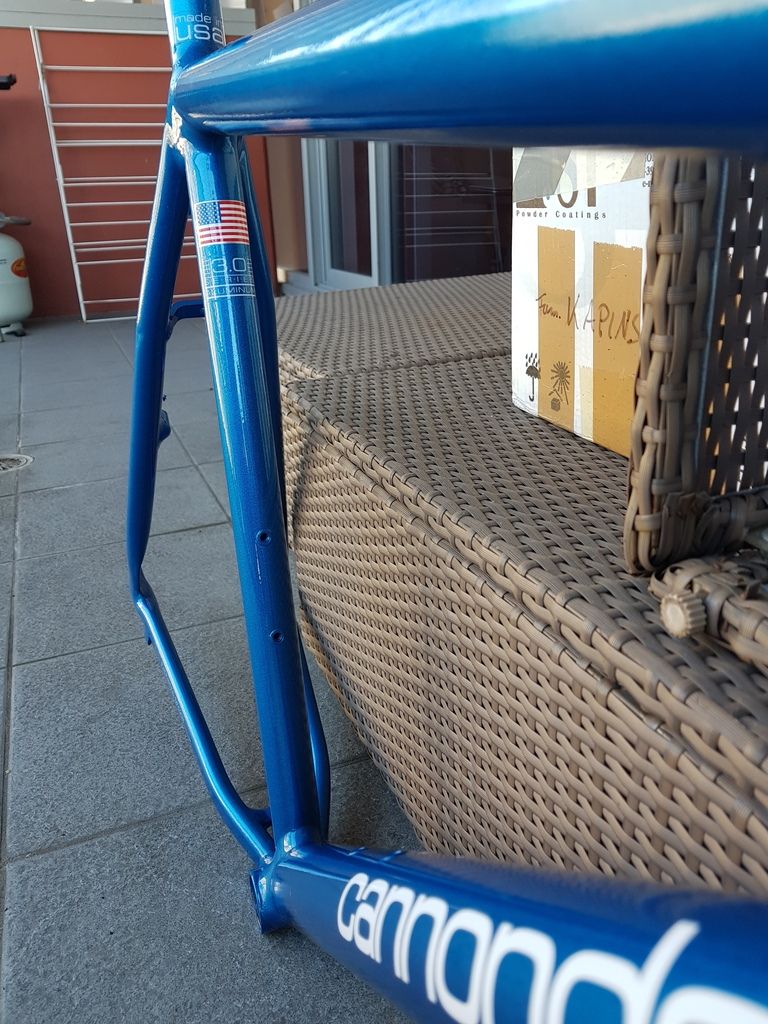 1997 Ritchey Road Logic, 1998 Frezoni MAX,
1992 Cannondale M2000, 201Pivot Mach5.5.
---
Posts: 2807
Joined: Tue Apr 21, 2009 2:00 pm
Location: Perth
---
Posts: 191
Joined: Sun Oct 30, 2016 5:43 pm
Postby lone rider » Tue Sep 05, 2017 5:46 am
After a car destroyed my last frame was sold a CAAD12 frame to get me going again. Need to get a more matching stem and internal battery but it will do for now. 2 weeks of no riding is long enough.
---
Who is online
Users browsing this forum: No registered users
About the Australian Cycling Forums
The largest cycling discussion forum in Australia for all things bike; from new riders to seasoned bike nuts, the Australian Cycling Forums are a welcoming community where you can ask questions and talk about the type of bikes and cycling topics you like.
Bicycles Network Australia
Forum Information
Connect with BNA