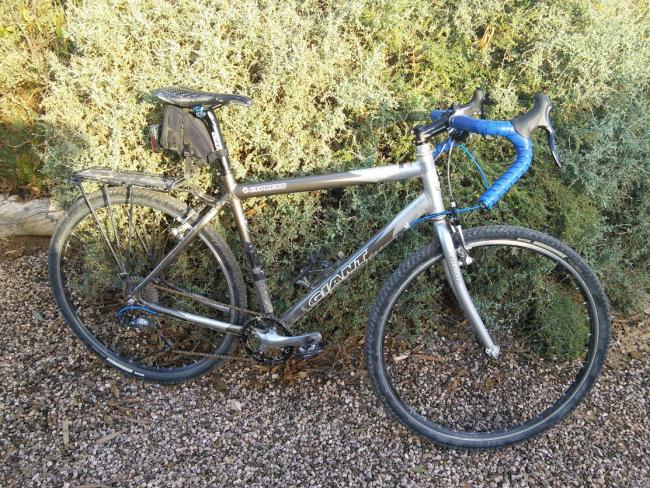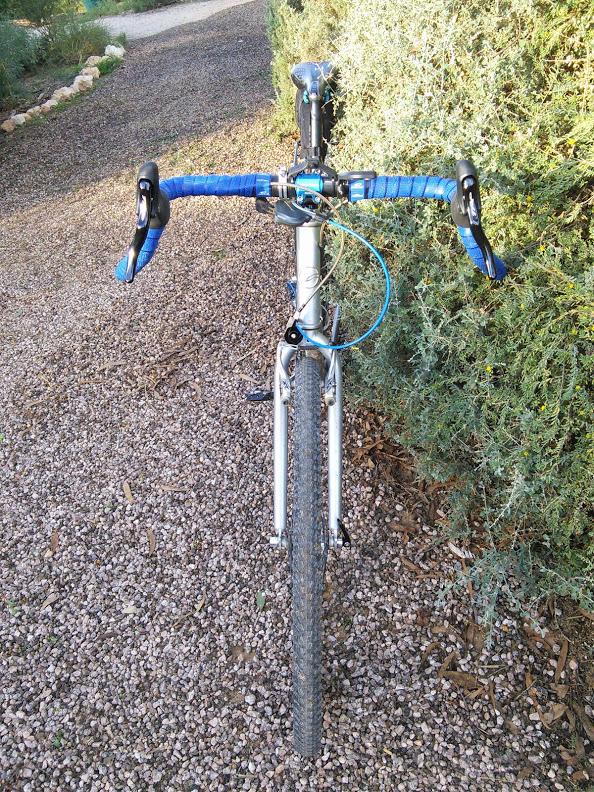 It started life with me as a balance bike so I could demonstrate to the son how it was done. And we went from there...
The Giant Cypress frameset came to me from the back room of the LBS for $30. The wheels are Novatec jobbies that came off my cross bike. Added a old riser bar and it was a balance bike. Easy.
After that role was satisfied, it was decided that it might make a useful commuter/family bike.
So it copped a 10 speed flat bar transformation using a quill stem conversion, XT trekking V brakes, Maxxis 700x42 tyres and a collection of spare parts (Shimano XT rear dérailleur, XT shifter, SRAM S500 crankset with a single 40T Hope chainring, Deore trail pedals, SRAM 11-32 cassette). And it was effective. But still not quite right...
A recent fleet change saw a new 29er hardtail project begun (and still underway - more on that later). This meant that the existing 29er hardtail had to go. A comparison of the commuter drivetrain, the 29er drivetain and my aspirations saw some swap-overs and the old 29er was sent for sale.
The commuter then wore a SRAM X9 Type 2 rear dérailleur, a SRAM X7 shifter and SLX cranks with that 40T Hope ring. But I also happened to have a Salsa Woodchipper 2 drop bar hanging on the wall looking for a bike...and then the new 29er build needed a crankset. So I sourced a pair of Travel Agents (on run-out at Clickbike) and a pair of TRP levers so I could run the drops plus some Lizard Skin bar tape and some Hope bar plugs (Salsa bars are too fat for most normal bar end plugs) to round things off.
The crankset was an irritation though. Then I realised that the alloy scrap bin had a couple of square taper triples in it from past wrecks and one of them was a Suntour four hole 104 BCD. Win!! Once I drilled out the rivets and returned the dead rings to the scrap pile, it was perfect for the Hope ring in the middle position. Another scrap 44T ring serves as a bash ring in the big ring position but can also be used as a 'boost' ring if the legs are up for it and the wind is behind me. The LBS had a nice short (103 mm) sealed BB for $25 which tucked the driveline in tight and we were away.
The plan was to fit the X7 shifter to the flat of the drop bar but I completely forgot the differing sizes between the diameters of flat and drop bars - the bar was too fat for the X7 shifter mount. Raided the small parts tin and found a front dérailleur clamp and a bolt...X7 shifter could be attached to said clamp. A few turns of tape on the 31.8 mm centre of the bar and suddenly the shifter would actually mount up solidly. Ergonomics are compromised somewhat but it works! I'm looking out for a bar end shifter to replace the MTB shifter but I'm not entirely convince it'll radically improve things given the investment required...
The only thing it really needs now is a shorter stem (probably a 70 mm with a decent rise on it) to make the reach comfortable but this bike is overall quite a hoot, both on and off road. It's far from pretty, light or quick (but then neither am I)...though it is effective.