Yes, I know that there's already a thread about
tents
however I want specific discussion on bivvy bags, bivi tents, bivouacs, cocoons, whatever you want to call them. A few on BNA have used them, I never have but am wondering if one would suit me and what people recommend. Hokay?
To give you some background I sometimes pedal down south to stay with friends, I don't lug a 2kg tent with me because of the unneeded weight and bulk however there have been times on these 250km trips where I'd wished that I'd carried some small shelter so that I could just pull over somewhere and freecamp, as opposed to doing a 250km overnight commute. I already have a Wilderness Equipment
Dart UL
tent which I can pitch in minutes without the need for tent pegs, best described as a 1.5 person tent it weighs just over 2kg and can be a bit of a struggle to insert the 3 poles or deal with twisting sheets in a wind or the dark. Plus it has a peaked profile and orange coversheet that doesn't help with stealth camping, takes a bit of space to insert and remove the poles, a bit of time to pack it up carefully.
I've seen some bivvy tents that use a single pole to provide breathing space around your head and to keep the buzzing mosquitos away from your ears, weight 0.6 to 0.9kg, pack away to fit easily between drop bars, deploy in seconds. I'm guessing that most would recommend something like the Outdoor Research
Alpine
Bivy? Pricey but doesn't need pegs.
There's the MacPac
Bush Cocoon
Bivvy which is side opening. It also uses a guyrope to provide foot space. 1 kg.
Kathmandu has the very cheap and very lightweight cocoon-style bag, the
Bivy XT
. Only 0.6kg but it uses two guylines to provide headspace.
Then there's the plethora-of-poles approach like Black Wolf's
Cocoon Bivy
. 1.1kg, 3 poles and packs longer than even my Ortlieb rear panniers can allow let alone fitting between the dropbars.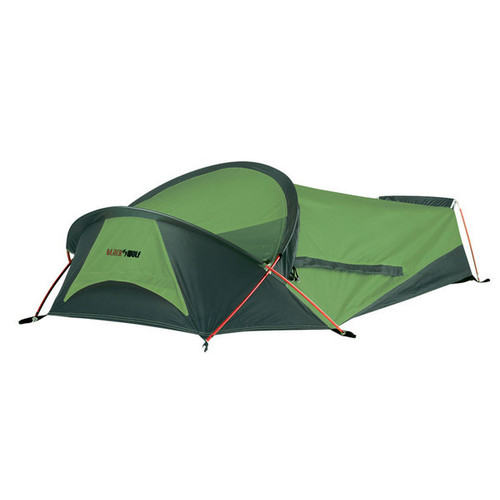 Having looked at a few of these styles I want something under 1kg, packs real small, deploys and packs away very quickly, has only one pole and no need for guylines or pegs, doesn't cost as much as a good tent, doesn't come in screaming yellow or orange, has weather protection but also mesh about the face so i can breathe insect-free, doesn't trap condensation, can handle me moving about in my attempts to sleep (I need to change positions often). Something that I can pack for the trip and forget about, not a pannier gobstopper. I'm leaning towards the OR Alpine Bivy above but it's pricey and hard to get. What else would work?
As I said, I've only ever tented, never used a bivvy. So, what am I missing?