Hi, I've just bought one of these for my daughter (6th birthday this week), so figured I'd share our experiences with it.
(I suppose I should wait until she rides it, but oh well, here goes)
Manufacturer's page:
http://www.bykbikes.com/kids-bike-range ... -bike.html
About us and why I chose this bike: We don't live in a flat neighbourhood, so I saw some gears as a necessity. But my daughter hasn't ridden a normal bike yet (was pretty good on a balance bike but has outgrown it), so derailleurs seem excessively complex and fragile while she's learning to coordinate everything else. She has said she wants training wheels but I am hoping to avoid that stage. However she's never been the most bold or sporting type, so I might end up resorting to stabilisers - again another reason for choosing this model as it's harder to add them to a bike with a derailleur.
I went for the blue/"boys" version, the colour is nicer and we have a 3 year old boy to hand down to also. My daughter's preferred "explosion-in-the-Barbie-aisle-and-tassles-and-dolly-seat" styling scheme just wasn't going to cut it. We should be able to pitch it as a Frozen/Queen Elsa bike though... (the theme of her birthday party.) Failing that, I got a pink chain and pink cable set to (reversibly) princess it up a bit if necessary.
Here it is as delivered:
So far everything seems pretty impressive on it. Build quality is good, the paint has a metallic pearl through the white.
It's reasonably light at the front end, though the back end is noticeably weighed down by the hub gear and coaster brake. For what it is though I think the weight is OK.
The ByK website is scant on technical specs, so here are some missing details for anyone interested:
Tyres: 20 x 1-3/8 (37-451) size - bigger than the standard 20" (406) size, but pretty easy to find replacements on the internet. There is almost no tread, just a micro diamond knobby pattern. Promises to roll very well on the pavement.
Front hub: Quando
Stem: quill type, should give lots of adjustment.
Cranks: 127mm - nice and short. So many kids bikes seem to get this wrong.
Gearing: 36T chainring, 22T sprocket. Very short, but that means that 3rd gear should be good for flat terrain, and then two gears below that for getting up hills. Well thought out.
The new version has some upgrades from previous years - quick release seat clamp, machined braking surface on the rims, smoother, rubber pedals.
Gearing:
The SRAM i3 hub gear works nicely, at least on the stand. Everything is well protected from damage, unlike the Shimano Nexus-3 that has the shifter bellcrank sticking out the end of the hub.
I played with the setup of the hub gear and shifter for a while. There are some good instructions here:
http://www.fyxation.com/blogs/fyxation- ... gear-setup
The grip shift is fine for me but I think a 6 year old might find it a bit stiff to operate, particularly clicking up into 3rd. Backing off the cable tension might help a little, I'll see how that goes with the shifting engagement though.
I wasn't impressed by the angle of the cable stop bracket coming out of the hub (see pic above) - the
instructions
say it should be parallel to the chainstay.
I tried to adjust it to this position but there just isn't enough clearance between the 22T sprocket and the chainstay to avoid the shifter cable system rubbing on something.
Cables - I'm a sticker for neat cable routing. As supplied they were as usual longer than necessary. Also I don't like the shift cable routed on the same side of the head tube. So some cutting and adjusting later, it looked like this: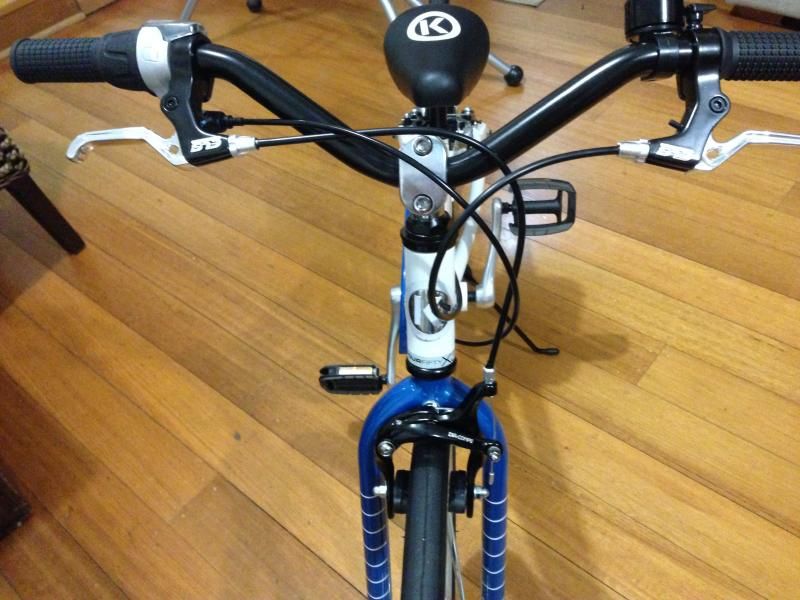 Offcuts: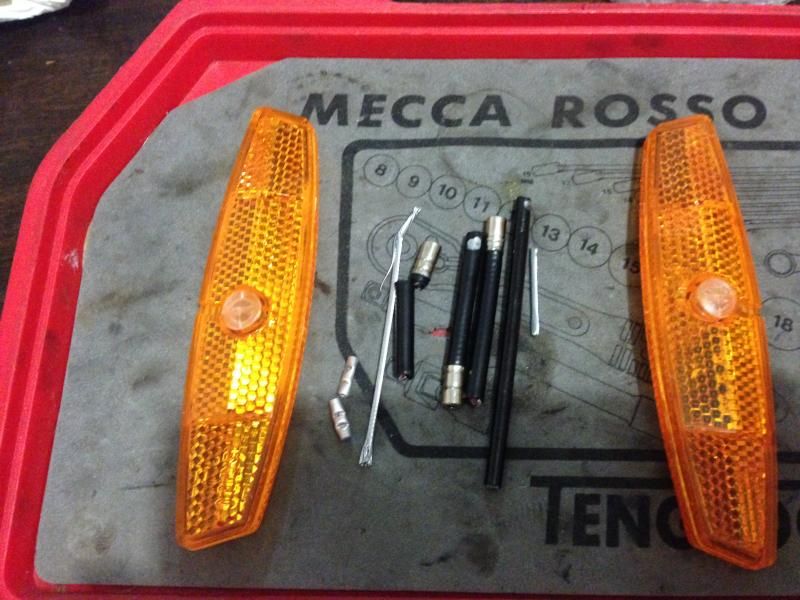 I also threw on a dual-pivot front brake caliper in place of the cheap looking single pivot, because, well, because. I had it, and it looks nicer. I don't think it'll necessarily be better though.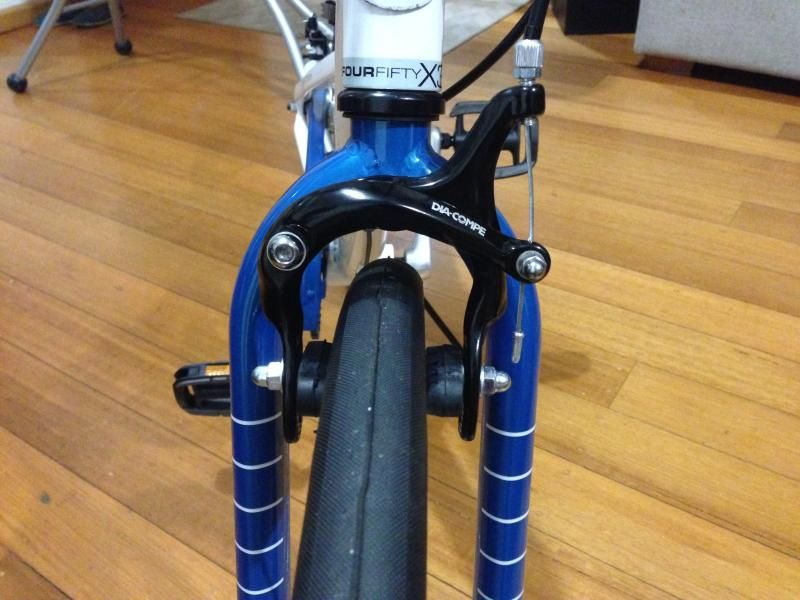 Testing out the brakes (scooting myself across the lounge room) - the rear brakes (both coaster and linear-pull) are very powerful. The front brake is less so. They have fitted the same brake levers on both handles, but the rear brake is a linear-pull and the front is a caliper, so intrinsically it's going to have less leverage and less power. I don't see this as a really bad thing though, as I don't think a beginner will really have the skill to control a powerful front brake as much as dealing with a powerful rear brake. But it doesn't inspire confidence in learning to use the front brake effectively.
That's enough for now. Will keep this thread updated as we go.