I fitted a couple of panniers to the VWR from this site.
http://www.ebay.com.au/itm/M-WAVE-DOUBL ... 27ddf3b595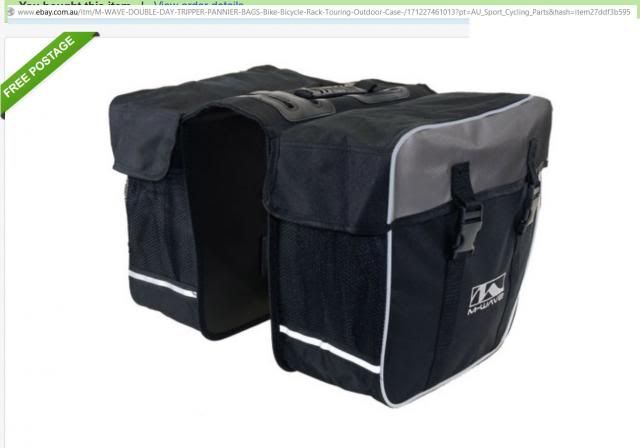 Most pannier bags of the cheaper type are joined across the top and in this way hang over the rack as Standard.
I could not find any cheaper bags than these, and cut the centre off and fitted an aluminium holding hook so that they just clip on as standard.At around $35-00 delivered it is a cheap experiment.
The lower simple clip strap is retained. I still have to apply a bit of paint and tidy the brackets up a bit.
Better quality bags to be used separately have nice easy clips to just hang off the rack and I adapted these for the same purpose.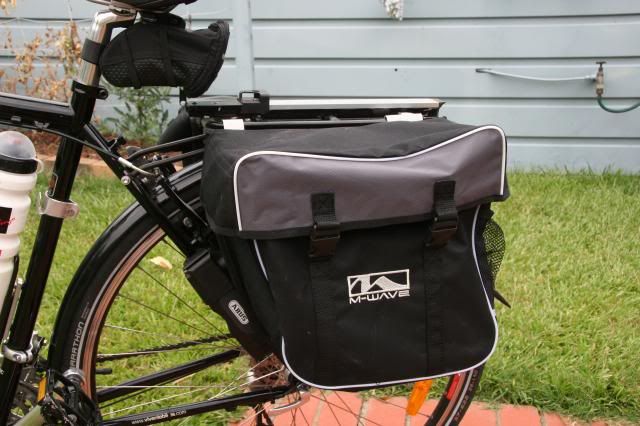 These come with a couple of stiff inserts if that is what you need to lend the bags a bit of shape or can be compressed and used flat.
These bags are very cheap and only intended for shopping.
For the size and intended purchase, I like them, as it gets the centre of gravity down with a bit of weight on the bike.
I had 6 kg in both sides, and the bike handles well with these bags. It also means I can retain my standard removable little luggage holder for small items.
The dealer is local to Melbourne and I received them in two days.
The small slide on hard case bag is from Cyclingdeal of Hallam, and is around the $60-00 mark. I have had 6 kg of goods in that as well.