I bought the lad a new mtb today
Seems his old bmx wasn't up to the job
So we went looking for second hand bikes ... and bought a new one instead
So here she is - the seat is set for long legged me, not for him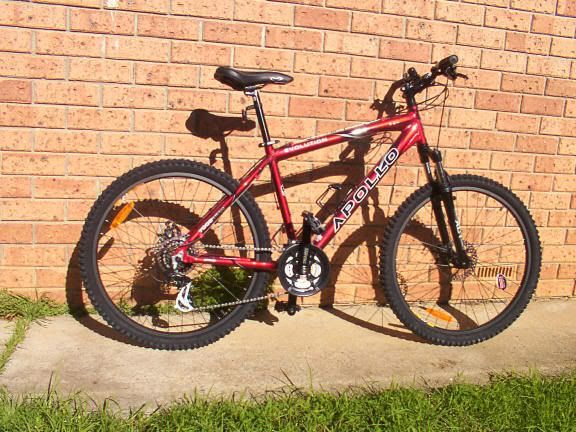 It's an Apollo Evolution XC. Got it for $409
Acera derailleurs
Ezi fire shifters
Weinmann ZAC-19 double wall rims
Tektro 10 Mechanical disc brakes
Truvativ x-flow cranks (what's the deal with mtb cranks? When shop blokes talk mtbs that's the first thing they mention).
Suntour XCT forks with 75mm travel.
Coke can frame but you can't have everything
More than I wanted to spent, more than I could afford to spend, but I wanted to get a bike that'd take the punishment a teenager is going to hand out over the next few years without going stupid on the price. I think I managed it.
He's happy - apparently we're all going riding tomorrow
I've got the lass with me so it'll be on a bike path, but that'll give him a chance to bed in the brakes and things before assaulting the dirt. Guess I'll have to go dirt road touring with him next week
(rotten school holidays
)
Richard