As much as I love the look and history of Rene Herse, Alex Singer and other French 650B randonneur bikes I will never be able to justify the cost of buying one let alone ride it on a regular basis. Of late there has been a number of 650B randonneur frames that have become available, but none seem to tick all the right boxes. Why is it so hard for someone to get a decent Japanese/Taiwanese manufacturer to build a nice low trail geometry, skinny tube 650B bike with a 1" threaded steerer?
Here's a list of all the frames I could find and my personnel thoughts on them -
Soma Grand Randonneur - $489 USD plus shipping.
I got really excited about these due to the price point, the use of the great Tange Prestige tubing and the imput from the Boulder cycles Mike Kone. However I have since been turned off by the sloping top tube, the curve of the fork and the strange choice of a JIS standard headset race (not huge problem but just limits your choice of sealed bearing headsets to Shimano ultegra or Dura ace). It's interesting to note that Mike Kone's personal Soma (the image above) uses a different fork to the production one;
Velo Orange Polyvalent - $500 USD plu shipping
Not to bad with a horizontal top tube and a 1"threaded steerer but I am not a huge fan of the semi horizontal rear end, they can make getting wheels of with fat tyres a bit of a pain with mud guards. Plus the 60 cm, which is my size has an enormous 61cm top tube. The next size down is the 57cm which would require me to use a riser stem or one of those rediculous looking superlong quill Nitto's, blah
;
Rawland Stag - $725 USD plus shipping
This ticks a lot of boxes. Nice horizontal top tube and vertical dropouts. I'm not so sure about the threadless steerer though. The other problem for the stag is I would have to look at getting an XL due to my leg length and not wanting a stupid number of spacers under the stem. As such my stem length will be only 60mm due to the super long top tube. I don't know how such a short stem would effect the handling of the bike. It would be nice if they made one with a 58 cm top tube but with a longer seat tube for those of us that are long in the shank but short in the torso;
Box Dog Pelican - $1400 USD plus shipping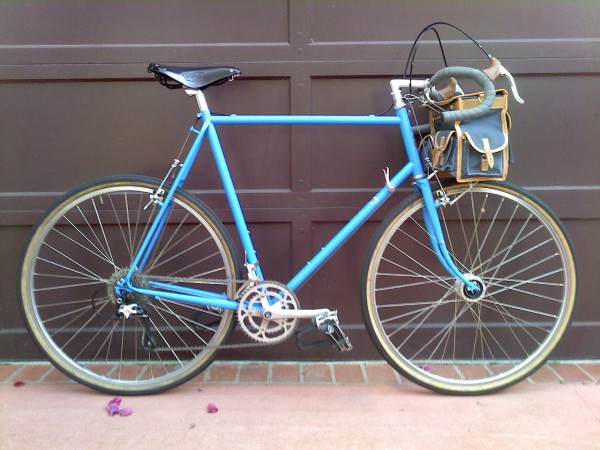 This thing is nearly perfect but the price is really starting to get up there. Really ticking all the boxes now including the internally routed generator cabling. I cant really think of any issues other then the price because for the same money I can buy a Boulder All road 650B
Tig welded stock Boulder All road 650B - $1450 plus shipping
Designed by Mike Kone and pretty much in my opinion the best off the peg 650B randonneur you can get. Unfortunately they are designed with oversized tubing and I realy would like standard size tubing but that rquires you paying more.