Yup, I've managed to do it again.
This is a story complete with highs, good deeds ... and the other side of life.
This afternoon, I bought Michael's old mtb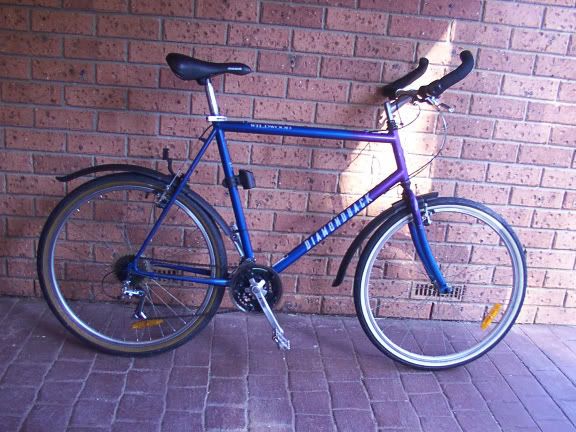 Cute isn't she. Love that blue and purple paint. As you can see, she's an old steel Diamondback. No suspension to go wrong, nor any suspension to ease the bumps
but that's cool - I'm after a dirt road, dirt trail explorer rather than a serious mountain beater, and I couldn't afford to buy something with good suspension that's still in good nick. Altus gearing which seems in good nick (except for a sticky changer).
Spotted the problem yet? (hint, look at the picture)
Back to the bike. She rides very nicely, very nicely indeed, far better than the Sow's Ear. Sure, she's been well used, but I've always worked on the principal that bikes become well used for a reason ... they're good to ride.
I'm happy.
A wee bit in love really.
Just what I wanted (as discussed before).
Spotted the problem yet?
Well, here it comes.
I didn't give her much of a test ride at Michael's, just a run around the backyard a few times. It didn't take much to see that things worked nicely (apart from that shifter but hey, he pointed that out). Bearings are smooth and free. Gearing works nicely. Steering felt good and smooth. Nah, she's well used and well maintained. And she's done a couple of impressive trips recently
Now, I don't know mountain bikes. Don't have a clue really. But Michael's about my size (looked a bit shorter if anything) and he likes her, and she felt good under me, so I bought her. Good price too - he's probably still laughing, but that's cool, I paid what she was worth to me.
Got her home. Part of the reason for buying her was so the lad could ride her to school. So he swings a leg over her ... and she's far too big. Top bar right up into the squeaky area.
Hmmm.
Then he says it's taller than the Europa.
Hang on
I sling my leg over her and, for the first time, stand flat footed over her. Sure enough, the top bar touches my groin
Bugger, I've just bought a bike that's too big for me.
So how did I make this mistake?
Well, as I said, I know nothing about mtbs and how their fit works. I'd made a point of eyeballing Michael - he's my size right? Bit shorter maybe? But my size? He's been riding this bike? He's happy? Didn't need to think further did I? Of course I flamin' did.
Then there's the seat - it looks nice and high above the top tube, well to my eye. Of course, I was forgetting that mtbs have a higher centre bracket to what I'm used to, hence the seat will be higher above the top tube won't it. (this is what I referring to with 'spot the problem?' - the seat is high but if the bike fitted, it'd be even higher above the top tube).
Grrrr.
So I've got this bike that feels really nice to ride but which is technically too big, possibly painfully too big. The top tube touches the groin on a hard surface, not major but not the 2" or more that'd be nice.
Arrrrggghhh.
I'd like to make it clear here that this is no reflection on Michael - he rides and enjoys this bike and our relative sizes would suggest it would work for me too. Besides, it's my responsibility and my mistake, definitely my mistake - how on earth did I overlook the first thing you look at?
Anyways, she's a nice bike to ride. I think we're going to have a fine times together, just have to find some firetrails to explore now
Richard
(Mulger Bill and Christopher - feel free to burst my bubble if appropriate)