Does anyone else use a child trailer?
We bought a
Croozer Kid for 2
at the start of this year. It has spent most of its life being used as a double stroller to kinder and ballet class, but we have put a handful of bike rides on it now that the weather is getting nicer.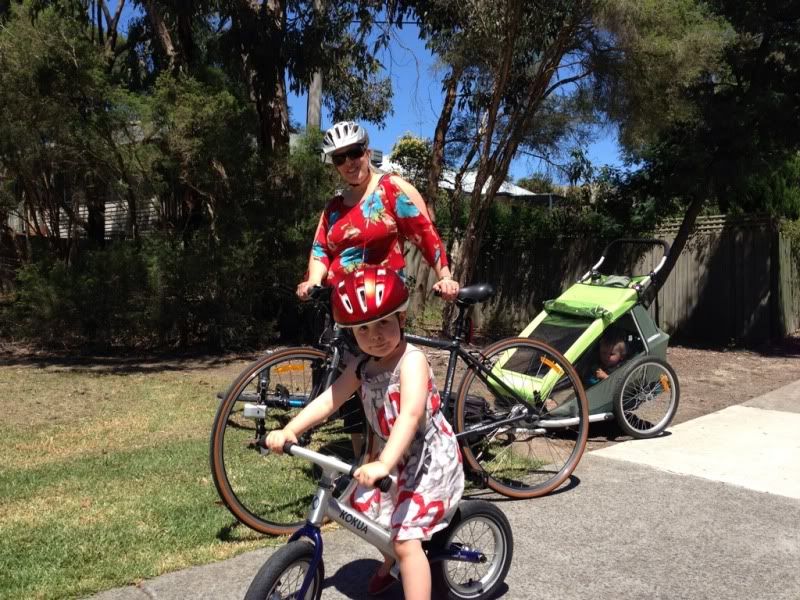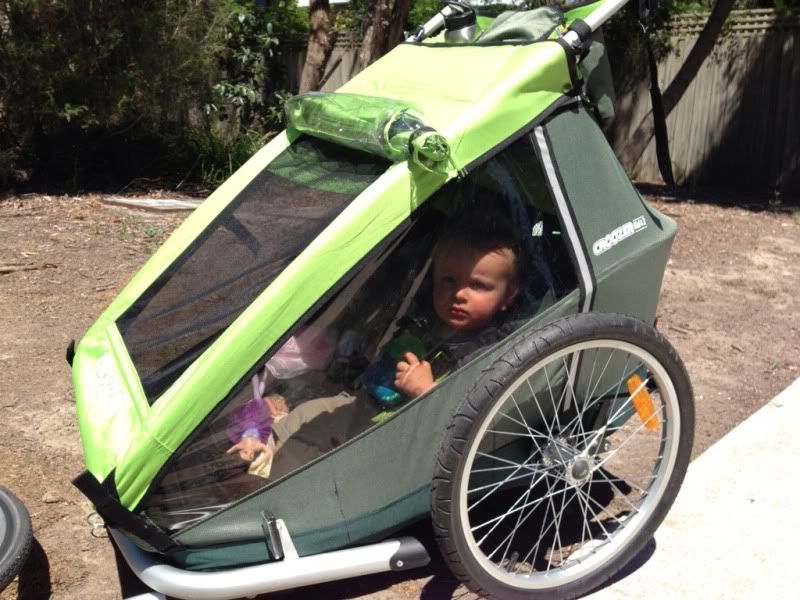 I have a (as of now) 4 year old and a 14 month old - so one is at the upper limit of fitting, and the other has just reached the age that you're advised to start rides (mainly due to helmet/neck strength issues).
We got the optional infant sling, which was good for when my boy was quite new, then upgraded him to the baby seat supporter (a padded seat insert), but he quickly outgrew that (he's big!) and now goes in the normal seat.
We also got the handlebar console, which is great for stroller use as drinks and keys/wallet etc are close at hand. There is even a little split hole in it for poking headphone cords through.
We have the optional sun cover too which provides a little more shade, but its practicality is limited by the fact that it slides up and down the top frame tubes, and the side panels are also attached to those frame tubes. This means, if you want to pull the sun shade down forwards, you have to undo some of the velcro loops and reattach them forward of where the side panel velcro loops are.
The hitch lives on my commuter bike permanently; I have a hub gear so it is firmly bolted in place to the axle.
Pros:
Gets the kids outdoors and moving faster than they can ride. Great way to get to the playground.
Comes with stroller wheel and jogger wheel kit included. My wife has used the stroller wheel a lot, we have not used the jogger wheel though.
Heaps of room in the back (enough for nappy bag, balance bike, snacks, drinks, stroller wheel for when you get somewhere, etc)
Rolls well, no complaints of ride comfort (believe me, my daughter would complain!). In fact the kids tend to fall asleep in it!
Easy to access inside (a couple of velcro tabs on the front cover)
Easy to fold up and down. It needs a good pull to snap the clamps into place, but it is as tight as a drum once done. My wife can do it, so it can't be that hard.
Cons:
The harnesses (5 point) are quite fiddly to adjust for length, especially when you are trying to reach in around a seated child. Once adjusted though they are easy enough to buckle.
The stroller wheel is a little rattly. Nowhere near as silent as the big wheels (in trailer or jogger mode)
It's heavy! I guess this is unavoidable, so it's a bit unfair to list as a negative. But you certainly notice when it's full and you come to a hill. My lowest gear is about 39 inches, not really ideal for hauling heavy loads... It jerks a bit when you go over bumps or accelerate, but again that's probably common to all of them.
No enough recess for helmets. There are adjustable head supports provided; I'm not sure if these are intended to support the neck (and provide clearance above for a helmet) or to be used in countries without helmet laws. Consequently, if the child isn't supporting their head, their helmet will push down over their eyes. However, the main reason for this would be that they are asleep, so maybe it's a moot point.
It's wide! This is probably the main drawback. It's too wide to fit through a standard doorway. Have a good hard think about the practicalities of that. It will just squeeze through a doorway tipped on its side without being folded up, but it is bulky and awkward to do this. Only slightly easier when folded down. I doubt the competition is much better though, you still have to fit two kids and two 20" wheels.
Apart from doorways, if you are going to a bike track, many of them have bollards or traffic obstructions that are equally hard to get past. However there is not so much weight on the back axle of your bike, so it is possible to lift the rear of the bike, step it sideways, and get through.
Despite folding down and the wheels coming off easily, it is still too big to fit in the (small) boot of our car. So it is limited to use around our neighbourhood, not for travels and holidays. We really could use a bigger car though...
Over all, it's a great trailer, a high quality piece of kit, and highly recommended if you can live with the size issues. It feels like it will last for years, but unless you keep churning out kids you probably won't get years of use out of it before they outgrow it, and as a double trailer it's really only effective for an age gap of less than 3 years, because you're limited to kids between 1 and 4-5 years old.