Hi guys,
I have sad news. I cracked the carbon FD post on my M5.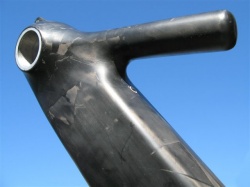 Overzealous tightening of the screw by probably more than 1/4 turn. Really p...s off with myself. I only noticed it when the boom would creaks on heavy load. Initially I thought it was the boom bolts not been tightened enough. Good job no damage done there with me tightening the bolts more than required.
The FD started to play up and would need constant adjustment. That's when I noticed the cracked in the carbon
.
I have cut a metal piece and inserted it between the FD clamp and the crack. Seem to hold ok. I contacted M5 and a new boom is 450 euro but they will sell it to me for 250 euro. That is very good of M5 to offer me 200 euro discount. My other alternative is to change the crank system to Schlumpf High Speed Drive altogether. This will negate the use of FD. Since the post is not a high stress area, I think it should be alright with the slight crack. What do you think guys?
Chong