I purchased this Hotta TT700 from a triathlete a few months ago. He used it in triathlons up until recently too.
IMG_6531
by
Quang Vuong
, on Flickr
The man behind the Hotta was Simon Aske. He is still around now working at Colin Lewis Cycles and is also a framebuilder. There's some good reading on him and the start of Hotta in the book
Great British Cycling: The History of British Bike Racing
By Ellis Bacon. And a bit of info
here
about Chris Field who was a part of Hotta too.
Although it is not mentioned in the book, Chris Boardman also rode on an Eddy Merckx painted Hotta in the 1998 Prologue. Starting at about 19:07.
Can anyone spot what groupset he has on it? I think it is a Mavic Zap groupset but with what I think are FC-7410 cranks there.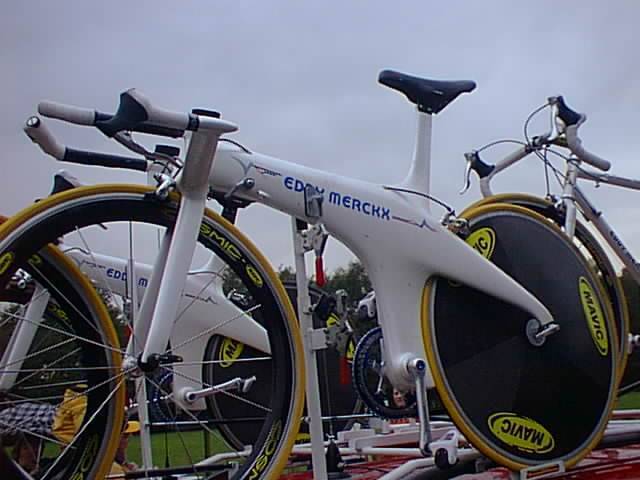 It was also sold under the Dunlop brand. It came in both 700c and 650c versions.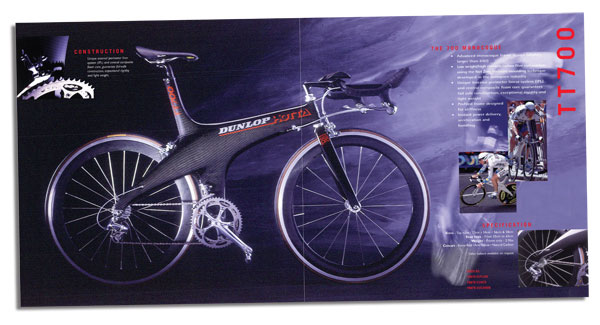 It was essentially a blind purchase. The parts hanging off it were not too special, so I was really only buying it for the frameset and Spinergy Rev X wheels. All I was told about the seat post was that it had not been moved in a longer time. If the aluminium seat post is stuck in there, then it will be a real issue for me. First thing to try was to undo the clamp bolt, but that was already partly rounded out. I could not unscrew it normally, so I went and drilled out the bolt head and knocked the clamp out. The white stuff is partly corrosion, but a lot of it is actually some sort of epoxy. When I asked the seller, he said that surfboard epoxy was used to stop the seat post from slipping.
IMG_6540
by
Quang Vuong
, on Flickr
The post was well and truly stuck in there. I tried freezing, heat, hammering it, twisting it, but it would not budge at all. Any more force, and I'd be worried about breaking the frame. So I cut the post and begun using a reamer to slower ream out the seatpost.
IMG_6918
by
Quang Vuong
, on Flickr
This took too much time, so I went to my favourite chemical, sodium hydroxide. At the time, I could not find any mentions of the effect sodium hydroxide would have on carbon fibre. There were plenty of mentions on various bike forums about people suggesting it, but I could not find anyone who actually did it. I was also not 100% sure if there was any aluminium inserts or sleeves in the frame, but going off the full carbon HT, I was hoping the ST was the same.
IMG_6919
by
Quang Vuong
, on Flickr
42 hours later...
IMG_1912
by
Quang Vuong
, on Flickr
Surely enough there was just a carbon tube measuring 27.2 mm left after 48 hours.
IMG_6946
by
Quang Vuong
, on Flickr
The surf shop epoxy did soak in the caustic soda and peeled off. However the carbon fibre itself seemed to be unaffected. It was only after I started, I found one mention
here
where fibre reinforced polymers is resistant to caustic soda. Around halfway down page 3.
IMG_6948
by
Quang Vuong
, on Flickr
Here is the frame and a Look fork that I decided to use. It is basically a 55cm square frame which weighs in at 1440g with a 515g fork.
IMG_2074
by
Quang Vuong
, on Flickr
Interestingly it has steel DT shifter bosses. The cables run internally in the frame with full guides from the entry port to the exit port.
IMG_2080
by
Quang Vuong
, on Flickr
IMG_2096
by
Quang Vuong
, on Flickr
The FD cable exit port is sticking out a couple centimetres in the picture as the guide is broken somewhere along the way. I left it sticking out so I can hopefully thread though the cable later on. The cable loops under the BB shell then up and out of the frame.
IMG_2081
by
Quang Vuong
, on Flickr
Aluminium dropouts which are clamped onto the carbon stays with two M4 screws. I will need to make a new pair of these as the NDS dropout is a bit too mangled. The RD cable exit port takes a standard step down ferrule.
IMG_2086
by
Quang Vuong
, on Flickr
Weird rear brake mount. Someone has stripped out the brake nut there, so they used a front brake which has a longer thread. I believe the brake is to be twisted into the threaded boss until it is tight. I am unsure how the brake would be centred though, unless spacers are used to get the positioning correct. I will either drill it out and use another M6 rivnut, or I will use a helicoil. There are some cracks forming along the stay here. I am currently unsure if they are cracks just in the paint, or carbon fibre itself. If anyone knows for certain how rear brakes are mounted on these frames, do enlighten me.
IMG_2090
by
Quang Vuong
, on Flickr
The carbon definitely did soak in a bit of the sodium hydroxide as a few weeks on, the dried sodium hydroxide started forming.
IMG_2093
by
Quang Vuong
, on Flickr
Carbon HT. It is to take 30.2 cups.
IMG_2099
by
Quang Vuong
, on Flickr
Someone in the past has drilled/filed a couple holes in the English BB shell most likely to help thread the FD cable though the frame.
IMG_2100
by
Quang Vuong
, on Flickr