One of the best recumbent bikes available.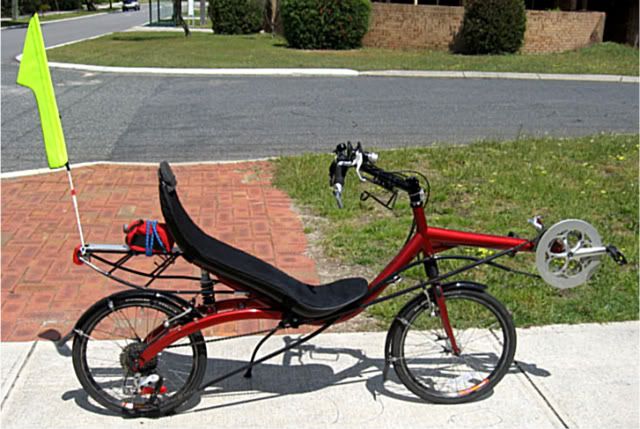 M5 Shockproof – 406 rims (20")
One of the best models M5 have ever made. A bike you can ride all day long.
The bike is the current model and is in excellent condition with nothing to spend but time enjoying one of the best balanced and smoothest rides ever.
It's an all in one bike. A fabulous commuter, day tripper with enough carrying capacity for touring. This bike will fit riders who are between 170cm to 200cm tall.
Location: Perth, Western Australia
Details
Over sized Cromoly tubing frame, with internal cable routing.
Suspension: Front and rear with rear adjustable.
Seat – Carbon, adjustable with cover.
Three chainring set – 61, 59, 39. Ultegra cranks
– includes chainring guard and chain guards.
Shimano rear cluster, 11-34 ratios with Shimano Deore XT longreach derailleur.
Gear shifters. Shimano bar end shifters. Shimano Ultegra front derailleur.
Wheels: Velocity Aeroheat 32 spoke front and rear. Quick release standard velocity hubs.
Tyres: Near new 32-406 Schwable Marathons, Schraeder valves.
Mudguards, Rear rack, Sidestand curved to align with the swingarm.
Second wheel set: Velocity Aerohead 32 spoke wheels with Velocity cartridge fully sealed hubs.
Price: $3250 ono – Ring Brad on 0418854964 or 93682305 for further details and a test ride. Or email:
bradlina1@gmail.com