Shimano Dura Ace 7850 24mm Carbon Laminate Clincher Wheelset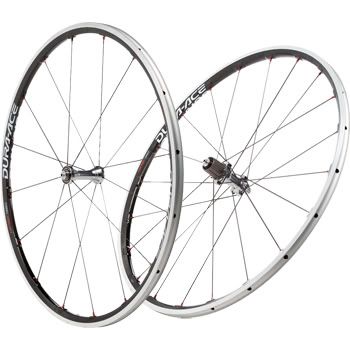 Where bought and price
Wiggle
- ~$943 AUD delivered (August) I have seen prices drop by about $100 as the little Aussie battler has strengthened.
How it is used
Racing only
Description (from Wiggle)
Added carbon reinforcement is applied around the spoke eyelets for increased durability under high load
• 16 front stainless steel butted and bladed straight pull spokes
• Elbow-less spokes make for a strong yet compliant wheel
• High lateral rigidity is improved with a wide flange spacing
• Labyrinth double contact sealing - low-friction seals effectively shut out water, mud and dirt without affecting rotational smoothness
• Borozon treated bearing races - super mirror finish bearing races reduce friction and provide a more precise bearing action
• Cold forged and machined aluminium hub shell and oversized 7075 alloy axle
• Supplied with Q/R skewers and wheel bags
• Please note: Although designed to be used without rim tape, it is recommended by Shimano that rim tape is used
• Titanium freehub body for quick engagement
• 8,9,10 speed compatible
The WH7850 CL Carbon Laminate wheel earn the Dura-Ace pedigree and are designed to complement any of there 10-speed groupset whilst meeting pro road race criteria.
Carbon and alloy laminate clincher rim is both light weight and ridged whilst maintaining high braking performance with standard brake pads. Low rim weight is achieved by reducing the alloy wall thickness from 1.3 mm down to 0.7 mm, then a patent pending phosphoric acid anodizing process is used to bond the carbon fibre to the alloy giving an excellent combination of low weight, strength and rigidity.
Reviewer Background:
I've been riding on the road for a little over 12 months, and the wheels are raced on a 2008 Giant TCR A1. At 5' 8 ½" and 65kg, I'm not very heavy so the wheels aren't put under as much stress as a Clydesdale. These are the first "serious" wheels that I have really tested and are inevitably compared to the stock Mavic Aksiums that came with the bike.
Reviewer Notes:
The package came from
Wiggle
in extremely timely fashion and well boxed. Wheel bags were included which was a nice extra. The wheels were perfect straight and true out of the packaging and were put onto the bike with a new chain (KMC X10.93), cassette (Ultegra 6600 11-23) and tires (Rubino Pro Slick). The overall look of the wheels is probably best characterised as "understated" which suits me well as I don't have the legs to back up a fully pimped out ride.
The wheels were tested on a 60km easy group ride; riding to and from the race track (25km each way); a 40km race and then left on the bike for a 150km ride along some rather dead roads.
The first noticeable trait of the wheels was their lightness. Initially I felt hesitant about putting them on the bike after clocking up 12,000km on the Aksiums - which are built like the proverbial outhouse and weigh a comparable amount – but my fears were unjustified. The easy group ride was the first outing and I was immediately impressed. The wheels roll very nicely, accelerate incredibly well and the ride offered is very smooth.
Now to the race:
The course is a 10km loop with a few short and sharp climbs. I was particularly excited to get the wheels out there as I had done a lot of research which seemed to indicate that they climb particularly well. I wasn't disappointed! The freehub is extremely quiet on descents and enabled me to launch a couple of stealthy attacks on the following rises. As anticipated, they responded wonderfully to the violent acceleration in a bunch sprint and held the pace well.
The 150km ride the following day was quite enjoyable. We rode through a lot of dead roads and the wheels responded well, seeming to absorb a lot of the vibration and not dampen the speed too much.
Positives
+Light (about 1440g for the pair, without skewers)
+Very rigid and respond wonderfully to acceleration
+Quiet freewheel which can enable stealthy attacks
+Still perfectly true after 300km
+Great price for a race wheelset
Negatives
-Very thin braking surface
-I'm struggling to find any at the moment!
Recommendation
A fantastic race wheelset if you are after a traditional clincher. As with most Shimano products, there is a lot of bang for your buck here.
OVERALL SCORES
Quality
Performance
Value for money
Especially with the stronger Aussie dollar!