Well, here they are. I've finished putting together my second solar powered electrike.
Sitting together like two dinosaurs gathering enough energy for a day's hunting.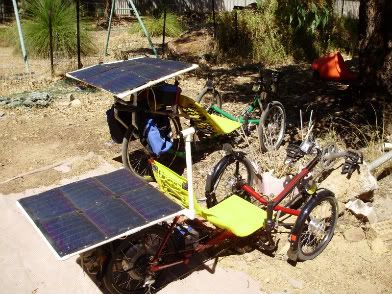 They're both Greenspeeds (the green one ("Proud Mary") is an ancient (1991) GTR 20/26 and the red one ("Spidertrike") is a GTIII folder 16" all the way round.) They're both using Heinzemann 200/400 watt motors geared for a max revs of 193.rpm. The green one has a top speed (on the flat) of 24 km/h and the red one 16 km/h.
Spidertrike is so-called because it climbs hills like Spiderman climbs the side of buildings.
The red trike has my experimental lighting system sticking up from the side of the photovoltaic panel. It uses car directional indicator LED light globe and a tail light globe. The light shines onto the road ahead of me but also illuminates me, so anybody coming from the side will be able to see me.
There'll be a similar mounting on the left side to take a "helmet cam".
Joe