News & Reviews on BNA
The most successful e-bike brand in Australia, Gazelle, is moving to a new distributer. Pon Holdings, the European owner of the Gazelle brand is closing distribution to Gazelle Bikes Australia and shifting the Australian distribution across to Derby Cycle Australia. Paul van Bellen [pictured above] and AJ are both credited with introducing the the quality brand […]
Posts: 17
Joined: Wed Mar 31, 2010 10:53 am
Location: Adelaide N/E
Postby hotwheels » Wed May 19, 2010 8:42 pm
I heard a rumour that there is now a bike trail open from Riverton to Auburn. I know of the reisling trail from Clare to Auburn but not sure if it has been extended or if there is a completely new trail. So if anyone can confirm this or give me any details i would be very appreciative. thanks
---
Posts: 824
Joined: Sun Apr 25, 2010 4:33 pm
---
Posts: 9
Joined: Fri Jan 01, 2010 7:15 pm
Location: Semaphore SA
Postby planner » Thu May 20, 2010 9:45 pm
Riesling Trail was extended in Nov 2009 to Barinia north of Clare, which is about 8kms. More recently the Rattler trail from Riverton to Auburn has been resurfaced and now forms part of the Riesling Trail, approx 20 kms extension. Thanks to Tourism SA and work of local community. Information is available from Clare & Gilbert Valleys Council or your favourite search engine. I have ridden the trail from Barinia to Auburn, smooth, fine, well compacted dolomite surface; be careful of loose edges if riding in groups. Surface is suitable for MTBs & flat bar road bikes (25mm tyres), my preference is MTB. My boss has ridden the newly resurfaced section from Riverton to Auburn for a recent TV postcards show and provided good report. I work at C&GV Council and can advise that the area caters well for tourism and cyclists, please don't hesitate to ask if you have any queries about the area.
---
Posts: 17
Joined: Wed Mar 31, 2010 10:53 am
Location: Adelaide N/E
Postby hotwheels » Fri May 21, 2010 4:54 pm
thankyou for your input guys, i was happy to also discover the Mawson trail so close by to be able to make it a Riverton to Auburn cycling loop. hoping to head there real soon and breathe some fresh country air.
---
Posts: 66
Joined: Sun Mar 15, 2009 9:39 pm
Location: Adelaide
Postby sven » Fri May 21, 2010 9:26 pm
Sure is!

Road it March LWE with family in tow - state's best kept secret (save Melrose of course)

Well designed, magnificent countryside

Sven
93 Avanti MTB (converted to single spd 'ninja bike' bike - full matt black)
09 Malvern Star Oppy Bolo'dor
10 Gary Fisher X-Cal
---
Posts: 22398
Joined: Mon Apr 07, 2008 11:57 pm
Location: Heading for home.
Postby il padrone » Sun Jul 04, 2010 1:44 pm
We have
recently ridden the whole Mawson Trail
(well, minus a couple of sections) and the Ratter Trail (Riverton-Aubrun) and Reisling Trail (Auburn - ~8 kms north of Clare) are now where the Mawson Trail runs. Not sure how you'd make up a Riverton-Auburn loop
. It is great cycling on a well surfaced rail trail.
Mandatory helmet law?
"An unjustified and unethical imposition on a healthy activity."
---
Posts: 102
Joined: Sun Dec 07, 2008 1:43 am
Location: Sydney
Postby bracko » Sun Apr 15, 2012 3:20 pm
planner wrote:.... Surface is suitable for MTBs & flat bar road bikes (25mm tyres), my preference is MTB. .....
so not suitable for normal road bike? I'm going there next weekend and was considering throwing my old al/carbon fork bike in and get away from annoying bike hires (I'm sure the stores are great, but they're not my bike
)
---
Posts: 273
Joined: Sat Apr 09, 2011 5:06 pm
Location: Adelaide
Postby jbchybridrider » Tue Apr 17, 2012 5:33 pm
bracko wrote:

planner wrote:.... Surface is suitable for MTBs & flat bar road bikes (25mm tyres), my preference is MTB. .....

so not suitable for normal road bike? I'm going there next weekend and was considering throwing my old al/carbon fork bike in and get away from annoying bike hires (I'm sure the stores are great, but they're not my bike

)
I rode Riverton to Clare then 8km futher along side White Hut road then back to Riverton 1 week ago. I would not recommend 23mm tyres but a road bike will do it. Its very smooth and hard packed you'll get your bike covered in dolomite dust.
I should point out though the track between Riverton and Aubrun has been washed out in a number of places in particular the start leaving Riverton so any tyres narrower than 35c and you 'll need to walk short sections.
This pretty sums up the track surface start to finish.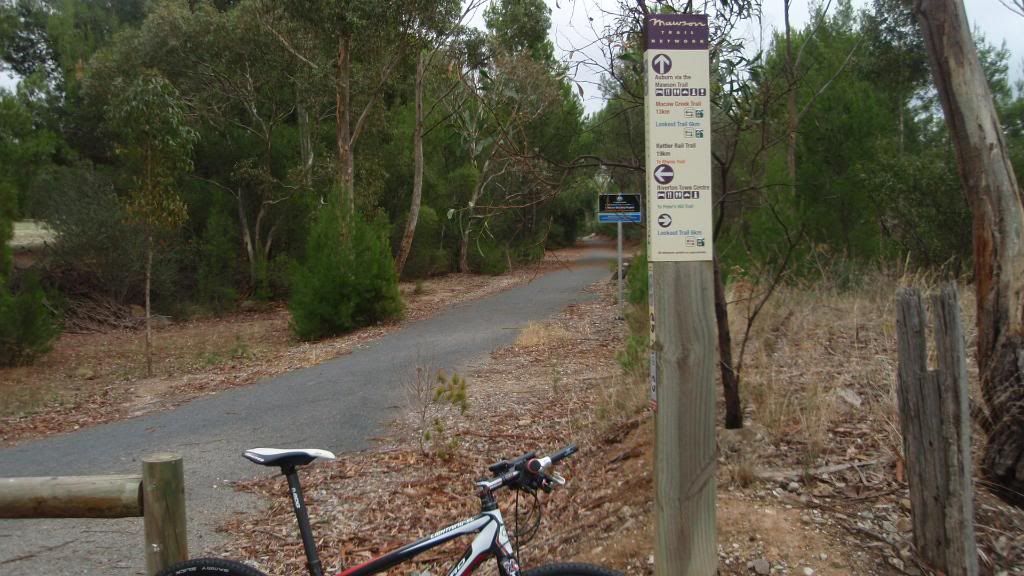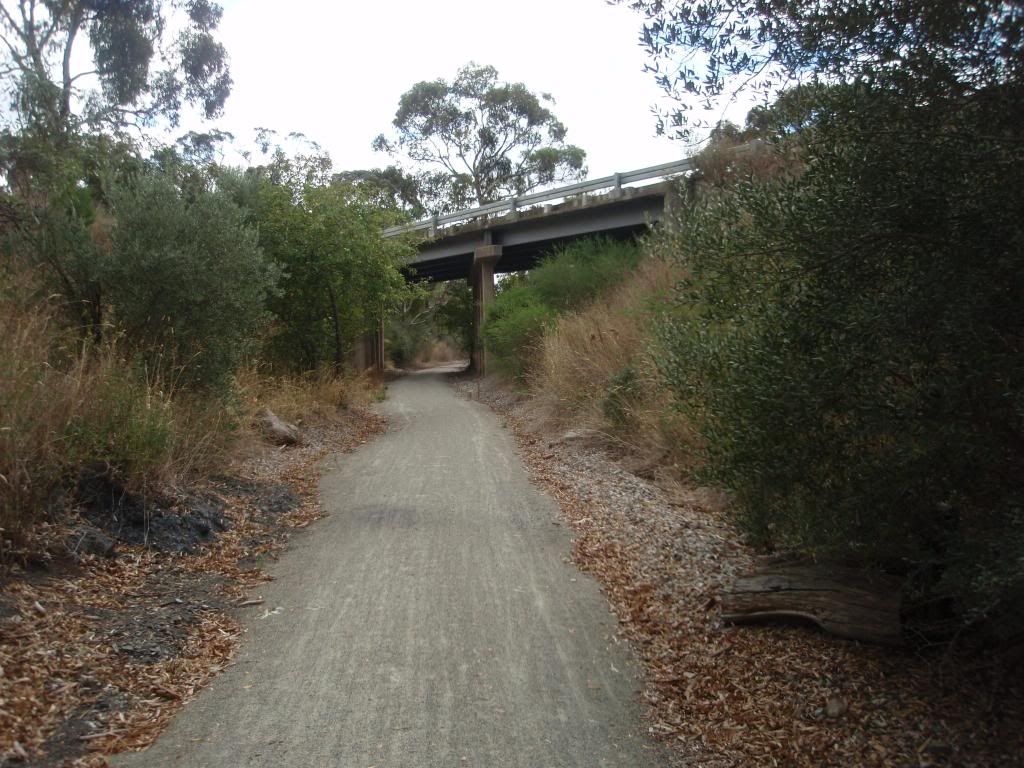 Don't forget to have a break and see the ruins around Seven Hills
---
---
Posts: 2217
Joined: Fri Apr 09, 2010 9:52 am
Location: Somewhere flat...
Postby silentbutdeadly » Thu Jun 27, 2013 10:48 am
We just spent the weekend in Auburn and checked out the Riesling (Auburn to White Hut Rd) and Rattler (Auburn to Riverton) Trails.

We did the Rattler on Saturday as a family with She on the hybrid and Me on the 29er towing Little Bloke in the kiddie trailer. The weather wasn't special with a decent northerly pushing rolling showers of mostly drizzle. We did the run from Auburn to Riverton before lunch and back again in the arvo. Total distance is 42 km. The Rattler Trail is well named with many washouts either rutting the surface or exposing the clinker beneath it but it is still mostly OK. The weather, the extra load (on me) and the lack of bike fitness (on She) proved telling - we were slow (roughly 12km/h or nearly two hours each way) and both ended up a bit stuffed. The Little Bloke thought it was fab! Overall it's an easy trail with a good range and mix of terrain but exposed in places and not in the best of conditions due to wash outs, farm traffic and the odd sunken timber top bridge. Any bike with tyres wider than 35mm will do it no worries

On the Sunday, She was still recovering and I decided to run the Riesling in the afternoon by myself. Very very different. The entire 32 km is virtually faultless - better than the Main North Road actually. The weather was if anything worse than the previous day. The view from the track is lovely and the interpretive signs, various stopping points and other trinkets add to the experience. The main downside to the Track is its featurelessness in elevation - it's just two big triangles! Up from Auburn to Sevenhill and down from there to Clare then another up and down to the end. I did the lot then returned to Clare for a pickup (40km total, roughly an hour and a half I think) just before the heavens opened and I got truly wet instead of merely cold and damp. You could do this entire track on a roadie no worries though I'd avoid anything narrower than 25mm tyre unless you are game.

The maintenance on the Riesling is just outstanding and a credit to the community. I came across a fallen tree just north of Clare and was told by a trio of walkers that they'd just reported it to the Track Committee. No worries. I continued up to White Hut Rd and returned to the same spot within a half hour to find two blokes and their vehicles sawing the tree up with a chainsaw - on a Sunday arvo in the wind and the rain! Brilliant!

Of course nothing is perfect and there's not much been done to link the trails to the various towns...especially at the trail heads and particularly at the Riverton end. Kind of an under utilised feature we felt. The White Hut end is just that...an unremarkable end. It doesn't even have anything signage wise to connect it to the Mawson Trail let alone anything about the Riesling Trail. The Auburn link between the two trails is wonky too - the Riesling trickles out on the Main North Road at the edge of town with nothing to connect it to the Rattler which kicks off down at the old railway station (now Mt Horrocks cellar door) and it all feels like a bit of an afterthought. Small quibble but a shame nonetheless.

Word of Warning: the coffee in Auburn varies from mediocre to truly awful depending on the source (the latter is an establishment who can't be stuffed fixing their front door)...but thumbs up to Cogwebs for making us welcome and giving us all the trail info we needed and the Rising Sun Hotel for the most enjoyable provisions.
Ours is not to reason why...merely to point and giggle
---
Who is online
Users browsing this forum: No registered users
About the Australian Cycling Forums
The largest cycling discussion forum in Australia for all things bike; from new riders to seasoned bike nuts, the Australian Cycling Forums are a welcoming community where you can ask questions and talk about the type of bikes and cycling topics you like.
Bicycles Network Australia
Forum Information