News & Reviews on BNA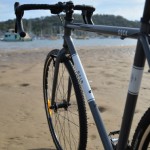 If you visit Melbourne, Sydney, Brisbane, Perth or Adelaide, you stand a good chance of spotting a Reid bike somewhere in these cities. The Australian company can still be described as a new-comer to the market, but they have expanded swiftly and are now selling in Europe and the USA as well. Reid's strategy is […]
---
---
---
Posts: 199
Joined: Mon Jul 14, 2008 2:30 pm
Location: Southern suburbs of Adelaide
Contact:
Postby U2adam!!! » Fri Sep 24, 2010 4:48 pm
MichaelB wrote:Forecast top of 19 degrees, light & variable winds, and I'm at work .....

Something is wrong with this picture ......
As of now I have two weeks of school holidays. Fine weather forecast for the first week...
Tim
---
Posts: 233
Joined: Sun Jan 17, 2010 5:40 pm
Location: S Adelaide, SA
Postby SeanB » Fri Sep 24, 2010 6:22 pm
bongo wrote:45 grams of carbs per bottle, and all natural preservative free ingredients.Bet power bars cant compete with that.No need for chewing either
oh yeah, i'm carbo loading right now...
---
---
Posts: 230
Joined: Mon May 16, 2011 9:14 pm
Postby bongo » Fri Sep 24, 2010 8:19 pm
Am in control of an 'area' in the eastern suburbs for work, and could not stop looking towards the hills all day.Saw plenty of other lucky individuals heading up norton summit, plenty jealous.Inspiring enough to get a little Ansteys hill ride in on the way home. Early rise tomorrow and getting amongst it again.
---
Posts: 7268
Joined: Tue Feb 20, 2007 9:29 am
Location: Adelaide, South Australia
Postby MichaelB » Fri Jun 17, 2011 9:00 am
Have the day off today, and the sun is poking out, so about to take the Cinelli on a tour up Belair Rd, Craigburn, Acland Hill, down into Clarendon, go a bit further and then head back fro a well deserved coffee.
Have finally managed to rack up just on 1,000km now with this, and I love every minute of it !!!
ooorooo
---
Who is online
Users browsing this forum: No registered users
About the Australian Cycling Forums
The largest cycling discussion forum in Australia for all things bike; from new riders to seasoned bike nuts, the Australian Cycling Forums are a welcoming community where you can ask questions and talk about the type of bikes and cycling topics you like.
Bicycles Network Australia
Forum Information