News & Reviews on BNA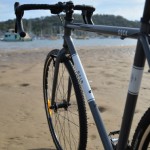 If you visit Melbourne, Sydney, Brisbane, Perth or Adelaide, you stand a good chance of spotting a Reid bike somewhere in these cities. The Australian company can still be described as a new-comer to the market, but they have expanded swiftly and are now selling in Europe and the USA as well. Reid's strategy is […]
---
Posts: 895
Joined: Sat Jul 11, 2009 7:25 pm
Location: Adelaide
Postby Richard.L » Mon Jun 14, 2010 9:45 pm
Not 100% sure about the rules on this bottle

A member posted their experience with one of these types of bottles in a topic somewhere here on BNA. If you cant find it i sorta remember the details of the story
---
Posts: 2960
Joined: Wed Apr 18, 2007 8:45 pm
Postby Parrott » Mon Jun 14, 2010 11:31 pm
I used one at the SA tt champs. I sent an email requesting the ruling on them first and got one back saying they were ok. However on getting down there one of the officials was not at all happy with it. One of our other club members went through scrutineering after me and got a different scrutineer than I did. The race starter had a look at his bike and he was not going to let him start until I produced my email saying they were ok. He begrudgingly let us start but wasn't at all happy and was muttering about it a bit. So it probably depends a bit on the official you get as to whether they are allowed or not. If you are determined to use it send an email to CA and get a ruling. I wont be using mine again as it caused too much of a stink and I was left feeling I had bent the rules and gained an advatage by using it. The other thread was in the road biking section
here.
---
Posts: 241
Joined: Sat Sep 12, 2009 11:28 am
Postby Romper » Sat Jun 26, 2010 5:49 pm
I have a similar situation are these
types of bottles legal for the average road race(not tt yes i know it's not the right forum but the topic fits)
I'm just wondering why anyone would bother spending a bajillion dollars on an aero frame and then just stick a regular bottle on it
Romper! now stiff yet vertically compliant
---
Who is online
Users browsing this forum: No registered users
About the Australian Cycling Forums
The largest cycling discussion forum in Australia for all things bike; from new riders to seasoned bike nuts, the Australian Cycling Forums are a welcoming community where you can ask questions and talk about the type of bikes and cycling topics you like.
Bicycles Network Australia
Forum Information