News & Reviews on BNA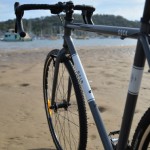 If you visit Melbourne, Sydney, Brisbane, Perth or Adelaide, you stand a good chance of spotting a Reid bike somewhere in these cities. The Australian company can still be described as a new-comer to the market, but they have expanded swiftly and are now selling in Europe and the USA as well. Reid's strategy is […]
Posts: 22386
Joined: Mon Apr 07, 2008 11:57 pm
Location: Heading for home.
Postby il padrone » Sun Jan 09, 2011 12:25 am
Helen Lloyd is an amazing young woman who has trekked
over 20,000 kms through Africa by bike
, solo and self-sufficient.
Here is a slideshow of part of
her time in the Democratic Republic of Congo
Mandatory helmet law?
"An unjustified and unethical imposition on a healthy activity."
---
---
Who is online
Users browsing this forum: No registered users
About the Australian Cycling Forums
The largest cycling discussion forum in Australia for all things bike; from new riders to seasoned bike nuts, the Australian Cycling Forums are a welcoming community where you can ask questions and talk about the type of bikes and cycling topics you like.
Bicycles Network Australia
Forum Information