I'm trying to get the computer on my bent working.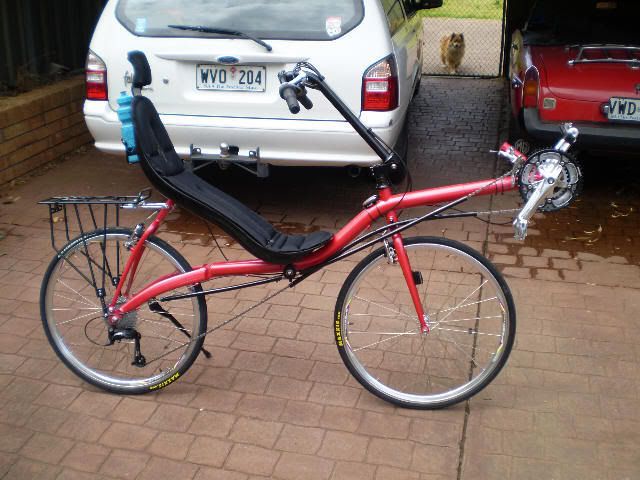 As you can see from the photo, the bars are very high and a long way from the front wheel. At the moment, you can see the computer at the base of the headstem. It works there, but I can't see it once I start to slide down into the seat.
Up on the bars, the rotten thing is right in front of my face and so close you can feel yourself trying to focus on it to read it - which isn't good for all sorts of reasons.
Up on the bars, it's also too far away from the speed sensor. That's been fixed. You can't extend the range on the CS200cad speed sensor, but you can on the F series speed sensor, so I had one of them modified (another bloody expense - not the modification, they did that free, but having to buy another sensor
)
The trouble is, although the bars are within the range of the sensor, there is too much interference up there. I can get the computer to work when holding it by the bars, even when holding it near the centre of the bars (they're well within range) but on the bars itself, it drops out. Believe me, I have tried every permutation of computer location (and orientation) and sensor location trying to get the sodding thing to work - both sides of both forks, rear forks, computer along the bars (though it really has to be in the middle if up there).
Mounting the computer on the tiller arm would work, but I wouldn't be able to read it ... which sort of defeats the purpose of having it.
It's been a very frustrating 24 hours since I received the modified sensor.
A bloke on BentRidersOnline has suggested this mount.
Lots more photos at this link.
TerraCycle: Multi-purpose Accessory Mount
My initial thoughts are that I can use this to mount it on the tiller, just above the headset, which just happens to be an ideal location for the computer.
Any thoughts?
I'm also thinking of one for the front to mount a light on.
Are there any other similar products I should be looking at?
Richard
still more flamin' expense, but having forked out for the computer plus and extra speed sensor, I'm sort of stuck on this trail now.