After months of procrastinating and researching and looking and thinking and talking to my Dad and worrying and drinking to much and not drinking enough and ... I finally realised that the only way I was going to find out was to buy one
What am I talking about?
The dreaded tag-along bikes, or trail-a-bike or whatever they call them in your universe.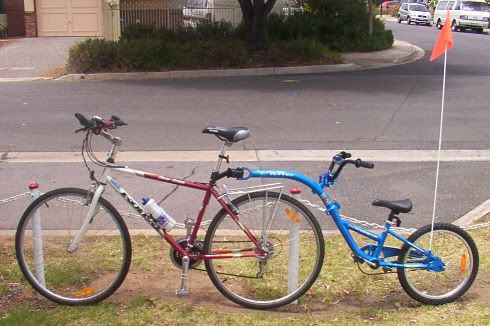 Yup, that's it.
You see, I've got a five year old daughter who, unlike her mad brother is not in the slightest bit sporty - she has only just mastered pedalling her wee bike with the training wheels, let along balancing the thing. And even if she was riding solo, kids that age don't have much endurance.
She lives with us half time (her half-brother is with me full time) and this, me being a single Dad, means that I can't go riding when I have her, which helps explain why my cycling isn't going ahead as it might. Even if she was riding her wee bike (16" wheels), she still wouldn't be strong enough for us all to go for a decent ride.
Enter the tag-along bikes.
BUT, how much would she use it? How often would I go out with her?
This was the question that stopped me buying one. You see lots of second hand ones with the comment 'only used four times' or 'as new condition' - it's rare to see one that's been ridden into the ground. Sort of sends a message doesn't it.
However, I knew she'd love being out with us and the tag-along bike does allow little legs to go further, to the point where the problem is not tiredness, it's boredom ... but a half hour ride is better than no ride.
The other issue was the quality of the bikes we get here. In the good ol' U S of A, they have a range of good quality tag-along bikes. Here, we get cheap, nasty, heavy crocks of things ... and that didn't encourage me in the slightest.
Last week however, coincidentally the last week before the school holidays, I came across the Holstar 'Trail Runner'.
Unlike other bikes available here, it has an aluminium frame and a well made frame at that. The other cheapies you normally see have very thick, very heavy, sometimes badly welded steel frames - recycled sewer pipe I think. The aluminium frame on the Holstar though, while still heavy (it needs to be - look as the diameter of those tubes), is not excessive, quite reasonable in fact, and a bloody sight lighter than anything else I'd seen. It also looks to be very well made.
Then there are the components. No gears unfortunately, but the wheel is round and true, a good tyre on it - it rolls evenly and smoothly. The seat and handlebars, while cheap fare, are good quality too.
The deciding factor though was the trailer hitch. I've seen some that concern me. This one convinced me. It's a large nylon block that attaches to the tag-along bike via a bolt and to the tow bike via a quick release skewer - the skewer has to be completely removed to remove the bike which is a pain but it does offer a level of security. Both the skewer and the bolt run through a steel bush in the nylon. There is play in the hitch but I don't anticipate this getting worse and it's certainly not bad enough to cause problems riding.
All in all, the Holstar is light enough not to be a burden, well apointed and well made.
So, what's it like on the road? I hooked her up to the Sow's Ear because I figured that the water pipe frame and upright riding position of the Sow's Ear made it a better prime mover than the Trek.
There is a heavy, steel bracket that remains bolted to the seat tube which also convinced me not to use the Trek.
My daughter's first view of it was in my lounge, already attached to the Sow's Ear. Her eyes lit up, she gave a squeal of delight and raced over the lovely, blue thing. She immediately twigged that she'd be able to go riding with Daddy and wanted out the door straight away. Sadly, we didn't have time.
Next day though, we loaded everything up and headed off to a flat, straight, bike path that I knew of. She talked all the way there, urged me to get it all hooked up quickly, wanted to leap on while I was still messing around with helmets and stuff.
Finally, we were ready. Dad climbed upon his clydesdale, Missy climbed aboard her new bike. A push on the pedals, and we were off ...
... and she fell silent ...
... then the wailing began. "Daddy, I'm scared."
Oh yeah, was she scared. I stopped and she was off the bike before I could take another breath. Big wide eyes, heart thumping like crazy. No amount of cuddling and reassurance was getting her back on that bike.
Her first ride lasted 100 m
and it seemed she'd never get back on it.
Next day, out in the driveway, I got her to sit on the bike. Nervous shakes of the head, but soon she was on it. Then I started to walk the bike, holding the Sow's Ear and looking back at her, talking. As soon as the bike started to move, that fear was in her eyes again. 10m later and she's off. A lot of reassurance but nothing doing - then I turned back towards the house and said "How about you ride it back to the house." A nervous look and then she nodded, climbed on and, as we started to move, I told her to pedal.
Well, instant success. As soon as she started to pedal, the bike smoothed out and a smile grew on her face. Still only 10m but she leapt off the bike and ran inside to tell her brother that she'd ridden her new bike.
Later that day, more laps of the driveway, still with me walking the bikes. Then she said she wanted me to ride the bike.
I needed no second invitation and leapt aboard, but no, she didn't want to ride, she wanted me to ride while she 'held me up'. So I head off up the street, riding as slowly as I can, her jogging next to me holding a handlebar. Just up the road a bit, I stopped and suggested she climb on her bike. A bit of worried look, then up she went and away we went. Not a problem. Only a 300m ride but she leapt off in high excitement.
Since then she's had a chance to show off around Grandma and Grandpa's retirement village which she took full advantage of, calling out to everyone and telling them she had a new bike.
We've just got back from a 5km trip along a bike path. She loved every minute and I was able to average about 12km/hr without any squawks from the back (she's quick to tell me when I'm going too fast). Half an hour was right on the boredom limit but I had planned the trip with a playground at the end for her to look forward to.
What's it like from the prime mover's seat?
Not bad actually. She isn't balacing the bike yet and so it rocks from side to side against the trailer hitch - this was the movement that scared her. There is a bit of rear wheel steering but nothing scary and the wide bars on the Sow's Ear give plenty of leverage anyway. You only notice the weight when you hit a rise and man do you notice it then. Having said that, it's far better than carrying a toddler in a child seat on the back (she used to go to sleep in hers and slump over to one side
).
Was it a success?
Yep. Well worth the money. It promises to be practical and useful and, more importantly, allows her to be part of the family cycling until she is big enough and strong enough to ride solo for some distance. She's small for her age and the seat is set at its lowest, so there's plenty of room to grow - we'll be using this for some years to come.
Richard