News & Reviews on BNA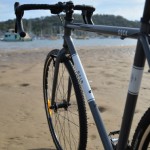 If you visit Melbourne, Sydney, Brisbane, Perth or Adelaide, you stand a good chance of spotting a Reid bike somewhere in these cities. The Australian company can still be described as a new-comer to the market, but they have expanded swiftly and are now selling in Europe and the USA as well. Reid's strategy is […]
Posts: 1964
Joined: Thu Oct 11, 2007 9:48 pm
Postby skull » Mon Aug 08, 2011 8:46 am
Have to put it out there that was some miserable weather this weekend just gone, rained all weekend. The trails were to wet to ride and I also prefer to not ride them in that state as it ruts them out thus ruining it for everyone. Also racing cancelled due to rain and ther was no chance I was going to go out on the roadie in this weather. Now it looks like rain all week too so all my commutes are going to be wet and my training rides I will most probably cancel and do trainer sessions.
http://henty.cc/
---
---
Posts: 1964
Joined: Thu Oct 11, 2007 9:48 pm
Postby skull » Wed Aug 10, 2011 8:51 am
Still flippin raining... My precious stayed inside today and I continued to ride the fixie (commuter) in. This afternoons ambition of riding over the bonnet then back around won't happen, instead I will just ride home and spend an hour on the rollers.
http://henty.cc/
---
Posts: 2724
Joined: Tue Feb 24, 2009 5:37 pm
Location: depends on who is asking, and why.
Postby master6 » Mon Aug 15, 2011 9:52 am
Whingers, all of you! Nothing wrong with the weather as I see it. Ahh,,, sunny Brisbane. Please make it good on 1/10, I dont want a rough Bass Straight Crossing.

Sorry Barry.
---
---
---
---
Posts: 1669
Joined: Mon Sep 07, 2009 4:55 pm
Postby Baldy » Fri Aug 19, 2011 7:15 pm
It was freakin awesome today, got to 19 in Hobart apparently. Felt a bit warmer than that up here on Hobarts Gold Coast....aka... Claremont
I even ducked into the hood to pay some bills, my first ride for a while after being crook.Aye its Norfgate isit, dont wear ya pants to high isit or yu get bashed. By 3 teenage girls in pyjamas and uggboots.
---
---
Who is online
Users browsing this forum: No registered users
About the Australian Cycling Forums
The largest cycling discussion forum in Australia for all things bike; from new riders to seasoned bike nuts, the Australian Cycling Forums are a welcoming community where you can ask questions and talk about the type of bikes and cycling topics you like.
Bicycles Network Australia
Forum Information