On Saturday I went out for a spin on the Musashi, first one for quite sometime as the Vortex has been having all the love of late...... And was feeling guilty as I had not ridden for a week whilst waiting for new tyres for the Vortex.
Where I live it is impossible to avoid some steep hills within 5 minutes of setting off from my house so not good when you're feeling a little wobbly from not having ridden a 2 wheeled recumbent for sometime.....
One really busy road to negotiate, The Great Ocean Road, and then it's onto quiet country roads where you have to keep an eye out for brown snakes basking in the sun on the hot tarmac and lots of roadkill......3 big dead Roos, and countless bunnies and foxes.....
Passed the Geelong Vets (veteran) cyclists, apparently they race around here a bit, which is probably why they weren't too chatty....managed to pass a few and kept up with another bunch for a while !! The Vets category is over 35 years old, so not that old.....
Nice stop after 30km at a place called Moriac (a regular refuelling spot at the General Store) - nothing here apart from the railway, although now there is a new town springing up with lots of new houses - in the middle of farming land and vineyards....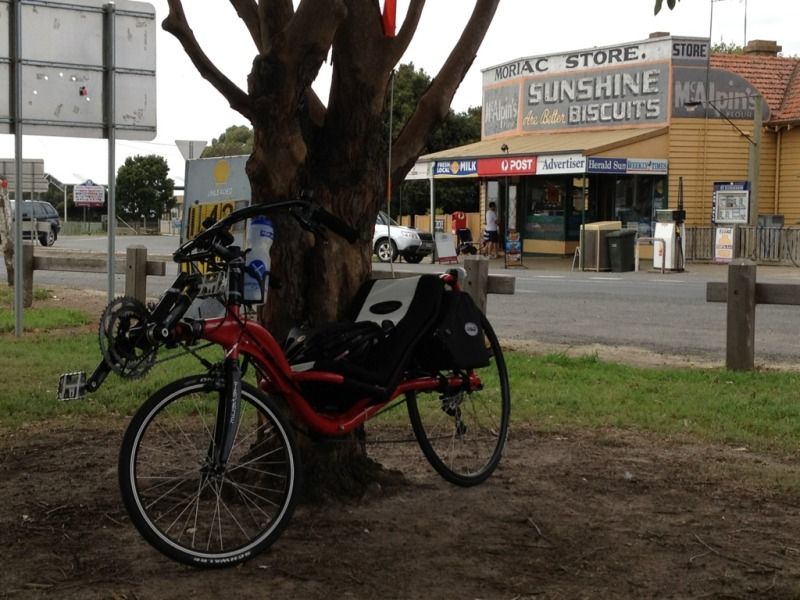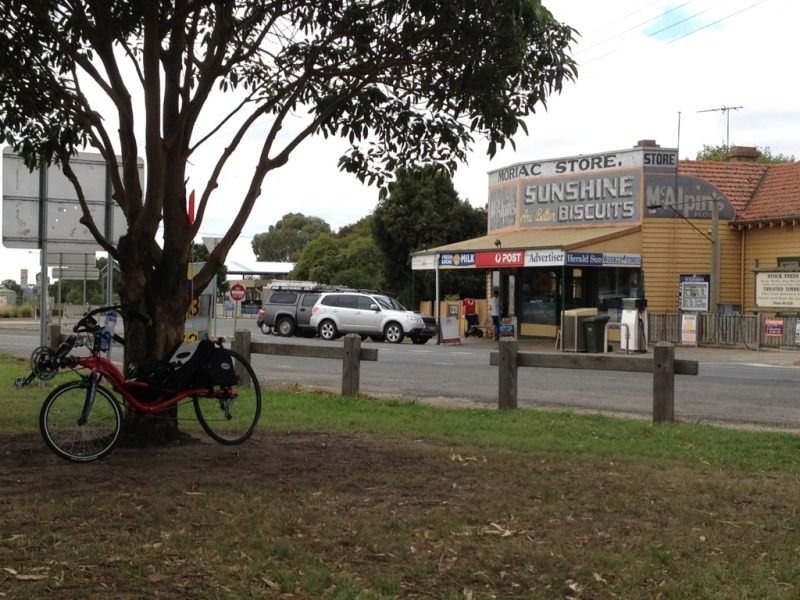 Good banana & walnut muffin and English Breakfast tea.....refill the big water bottle......
Feeling good so set off for part#2, off to a place called Barwon Heads & 13th Beach, the sun was burning off the cloud by now so it was warming up......all the sunscreen had been sweated off by this point.....
A nice run to the coast with a bit of a headwind when heading south but generally good, one thing I noticed was that since I borrowed my neighbours GoPro and mounted it on the side of my helmet (helmets are law in Oz) the cars seem to give me a load of room, only 2 bad drivers in a 3.15hr ride, so not bad !!
The sun was nice and the sea was really blue, not much good for surfing (poor swell and on shore breeze) but lots of dudes and dudettes hanging out on their boards........
Good cruise into Torquay (6km from home) and kite surfers were out and people milling around and quite a high risk of being doored or reversed into (they have 45 degree parking spots on the Esplanade)....so you have to ride pretty much in the middle of the road, was with an upright rider at this point as well so safety in numbers.....
Then the final bit to head home involves a bit of a hill at around 10 - 12 kph but the end is in sight so just keep plodding on......
Get home have a well deserved shower and cold drink or three.......those Nuun tablets are damn good !
Here's the Garmin track....
http://connect.garmin.com/activity/150338692
Might have a go at editing the video, can anyone recommend some software for a PC user ? preferably free.....
Thanks