News & Reviews on BNA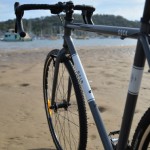 If you visit Melbourne, Sydney, Brisbane, Perth or Adelaide, you stand a good chance of spotting a Reid bike somewhere in these cities. The Australian company can still be described as a new-comer to the market, but they have expanded swiftly and are now selling in Europe and the USA as well. Reid's strategy is […]
---
---
Posts: 11569
Joined: Sat Jan 03, 2009 5:30 pm
Location: Northern Beaches, Sydney
Postby trailgumby » Wed Dec 21, 2011 1:14 pm
You wouldn't need 'em. No chance of getting up a sweat on that thing.
Until the battery goes flat, of course.
When all else fails, persistence prevails -- Lew Hollander
---
---
Posts: 1985
Joined: Fri Oct 01, 2010 1:07 pm
Location: Melbourne
---
---
Posts: 27
Joined: Mon May 23, 2011 5:59 pm
Postby ed muggles » Fri Mar 30, 2012 1:30 pm
did they seriously have a cut out in the seat tube fore the rear wheel
---
Posts: 124
Joined: Sun Jul 25, 2010 10:39 pm
Postby cachexian » Wed Apr 04, 2012 9:15 pm
Scott Sub 40 with 200W, 36v Ezee geared front hub motor
and...
Trek Madonne 3.1 driven by left leg and right leg
---
Posts: 6
Joined: Fri Oct 25, 2013 2:47 pm
Location: Carlton Nth
Contact:
Postby VeloElectric » Fri Oct 25, 2013 3:28 pm
It's a VERY fun ride!
And that's largely because the torque-sensor is so good. Soft pedal and you get a bit of assist. But put in, and it's like you have Anna Meare's rear end strapped on! You want to pedal it flat out all of the time - you just feel like Superman!
---
Who is online
Users browsing this forum: No registered users
About the Australian Cycling Forums
The largest cycling discussion forum in Australia for all things bike; from new riders to seasoned bike nuts, the Australian Cycling Forums are a welcoming community where you can ask questions and talk about the type of bikes and cycling topics you like.
Bicycles Network Australia
Forum Information