News & Reviews on BNA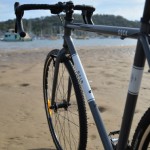 If you visit Melbourne, Sydney, Brisbane, Perth or Adelaide, you stand a good chance of spotting a Reid bike somewhere in these cities. The Australian company can still be described as a new-comer to the market, but they have expanded swiftly and are now selling in Europe and the USA as well. Reid's strategy is […]
---
---
Posts: 346
Joined: Mon Sep 03, 2007 10:54 am
Location: Kaleen, ACT
Postby DavidH » Sun Apr 29, 2012 5:34 pm
Not sure what you have in mind but you could try:
Wayne Kotzur (
[email protected]
)
12 Harp St Gundaroo, NSW, 2620 Ph/fax 02 6236 8265 work 02 6236 8203 home
---
---
Posts: 192
Joined: Fri Jan 08, 2010 4:47 pm
Location: Deakin, ACT
Postby bpmhigh » Sun Apr 29, 2012 8:47 pm
+1 for Wayne Kotzur.

He did some work on my old Speedlite - I think he's about $70-80 per hour. Not sure of his experience with carbon. I cold-called him and he was friendly and generous with his time.

If you just want a chin-wag to explore possibilities, the mechanic at Mal-Adjusted in Dickson is a frame builder [the tall bloke whose name escapes me).
---
---
---
Posts: 1000
Joined: Thu Jun 04, 2009 9:00 pm
Postby mrgolf » Mon Apr 30, 2012 11:45 am
No, no. Already got kids and they are kitted out with bikes/ trailers for now. Mine involves the beautiful blending of modern steel tech with carbon goodness.
---
---
Posts: 3
Joined: Fri Nov 09, 2012 11:23 pm
Postby Micheloaks » Fri Nov 09, 2012 11:28 pm
Luke Laffin...fikas bikes in queanbeyan. Frame builder/fabricator.
---
Who is online
Users browsing this forum: No registered users
About the Australian Cycling Forums
The largest cycling discussion forum in Australia for all things bike; from new riders to seasoned bike nuts, the Australian Cycling Forums are a welcoming community where you can ask questions and talk about the type of bikes and cycling topics you like.
Bicycles Network Australia
Forum Information