Martin, thank you. I'm pleased that you like the shots. Wagga Wagga was vibrant and prosperous with a lot of people out and about. The place was a real treat.
Adaminaby. Adaminaby although not a large town it certainly is a focus for touring cyclists on their way to entering the Southern ACT, when they are coming up through the mountains. Adaminaby is well positioned for riders coming into NSW from Corryong/Kahncobnan or heading north from Jindabyne ... and smart enough to avoid the Monaro Highway.
Adaminaby has a small shopping centre with excellent facilities for resupplying. The Spot supermarket has a good camping section in the back of the store and they stock both Isopropane and Isopropane Butane for Kovea style burners. There is also an excellent take-away. If you can time visiting on a Thursday morning for resupplying, there is fresh meat in the supermarket ... but its gone by mid afternoon.
Accommodation is good. There is the Snow Goose Hotel and the Alpine Caravan Park, has cabins. The caravan park has good kitchen facilities under awnings for campers.
I like Adaminaby. For fisher cyclists the place is great for buying those regionally and seasonally appropriate flies.
These guys were walking down the main street heading towards the Adaminaby Bowling and Sports Club. Obviously the locals know where to head ... and you (not ewes) can get a good feed there as well.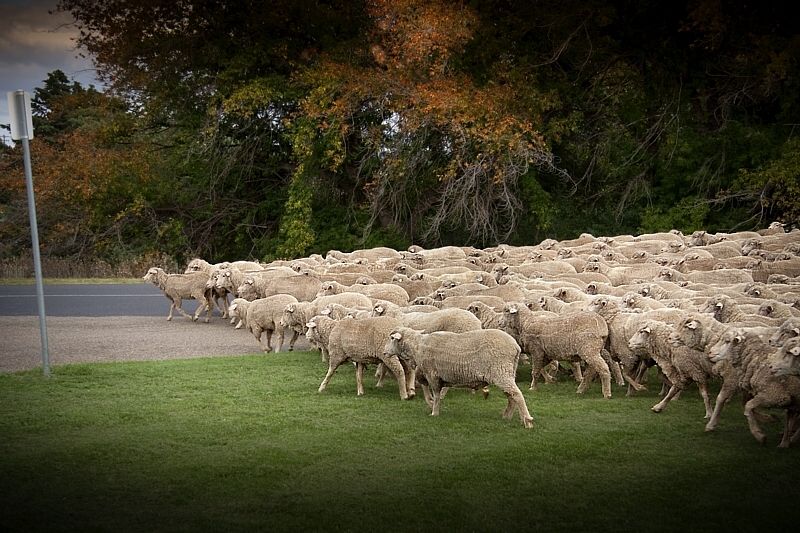 Warren.