News & Reviews on BNA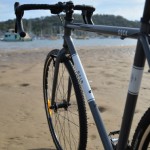 If you visit Melbourne, Sydney, Brisbane, Perth or Adelaide, you stand a good chance of spotting a Reid bike somewhere in these cities. The Australian company can still be described as a new-comer to the market, but they have expanded swiftly and are now selling in Europe and the USA as well. Reid's strategy is […]
---
Posts: 1256
Joined: Tue Oct 02, 2007 7:12 pm
Location: Albany. 400km South of Perth
---
Posts: 225
Joined: Sat Dec 22, 2007 11:32 am
Location: Woolgoolga NSW
---
Posts: 1256
Joined: Tue Oct 02, 2007 7:12 pm
Location: Albany. 400km South of Perth
Postby John Lewis » Mon Sep 10, 2012 7:50 pm
What an interesting design.
I think the BikeE must have got some inspiration from the Linear.
What is the purpose of the quick release on the fromt of the main body? Does the head assembly remove perchance?
John
---
---
Posts: 225
Joined: Sat Dec 22, 2007 11:32 am
Location: Woolgoolga NSW
Postby Recycler » Tue Sep 11, 2012 3:25 pm
G,day, Yes very interesting to ride to. Both the seat and cranks move for and aft. (I paddle kayaks
] The front forks & rear fold back under, and the seat also folds down. Total weight is 15kg.
---
Posts: 225
Joined: Sat Dec 22, 2007 11:32 am
Location: Woolgoolga NSW
Postby Recycler » Mon Mar 14, 2016 4:55 pm
Had to find a special tool today, so I headed down to the back of the shed. Its a place you take your life in your own hands.
Moved a few things, and then I saw it. The Linear recumbent, so I took it out washed it down and took it for a ride.
Its a good bent to ride. Always get some odd looks from people. Will take it for a longer ride in the morning.
---
---
---
---
Who is online
Users browsing this forum: No registered users
About the Australian Cycling Forums
The largest cycling discussion forum in Australia for all things bike; from new riders to seasoned bike nuts, the Australian Cycling Forums are a welcoming community where you can ask questions and talk about the type of bikes and cycling topics you like.
Bicycles Network Australia
Forum Information