I went to visit a mate last week out a farm in the Central West NSW, and he showed me around the place. There was this white LOOK racer covered with the crud of about 15 or 20 years sitting in a dusty corner of a open farm shed, and his wife said it was going to the tip with about 20 tons of other scrap.............. Like hell it was !!
So I brought it home and spent an hour or two this arvo giving it a bit of a once-over. I thought a LOOK was a French-made top deck racer, and if you bought one of their current carbon fibre bikes now, it'd cost you an arm and a leg. But this bike was, I think, pretty low-spec.
The frame says "Tange", but doesn't say Tange 1 or Tange 2 or anything like that. I think it's about 57cm top tube. It has a little mounting pin on the frame just below the steering head for mounting a long pump under the top tube, and the dropouts are part of the frame. The back brake cable runs through guides that are welded to the top of the top tube.
The forks are molded at the top- NOT the kind that have a forged top section and brazed in legs. There are lugs at the bottom of the forks, presumably for a mudguard bracket.
The brake calipers and levers are Exage Motion.
The Deraillers and crank are Exage 300EX, 170mm.
Kalloy seatpost.
Hsinlung bars.
Shimano 7 speed indexed shifters on the down tube.
The wheels rims are black Araya 700C with stainless pokes, and the front has a major buckle that hasn't responded to about an hour stuffing around with spoke tension. With the brakes backed off, the front wheel still spins. The hubs have a sticker that says "sealed mech- FH-HG50" and "Exage".
The chain ring was a steel Bio-Pace.
The bike was fitted with reflectors front and back, and on each wheel, and it had horrible steel pedals.
Interestingly, the black rims are unmarked from the brake pads rubbing, the brake pads them selves are unmarked, and the bottom bracket and steering head bearings are smooth. The wheel bearings are a bit rough, and the tyres are unworn and hold air, and the tubes have French valves. I suspect that the bike hit something shortly after it was bought, the front rim got damaged and it was never ridden again. It was quite heavy (but then I'm a bit used to my modern carbon bike.......) but I got rid of the reflectors and fitted alloy chain rings and Shimano clip pedals that I had lying around and it now looks considerably lighter, and that's what counts !!
I went for a short spin around the block this evening, and even with the buckled rims and gritty chain, it still rides very nicely. I'm now on the lookout for some period 175mm cranks and a decent set of wheels, and I think I'll have a nice stable-mate for my old CrMo Lenny Rogers racer !
Here are a couple of pictures: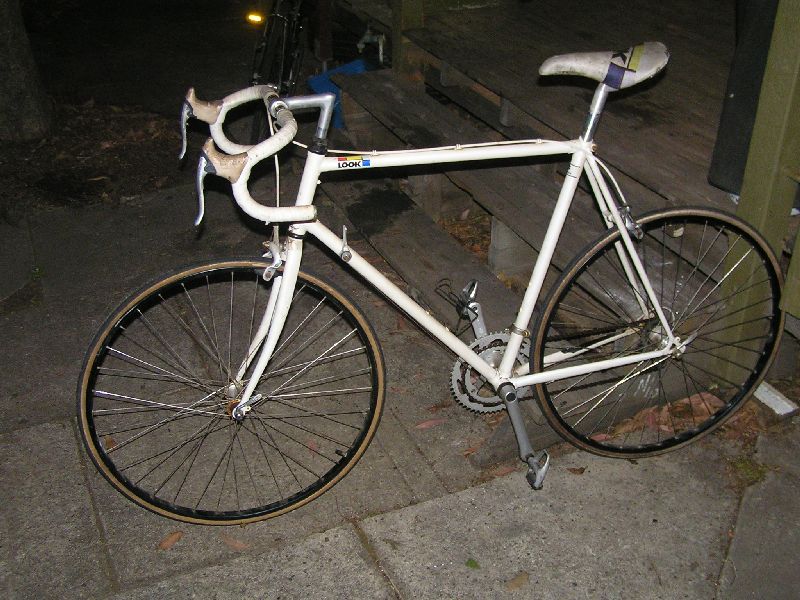 Anyway, after all that, does anyone know the history of LOOK bikes ? Although this bike is nice and Retro, I don't think it was a top-shelf racer. At some stage did LOOK re-invent themselves and start manufacturing in France ?
Also, would anyone care to guess it's vintage. I'm thinking, from the style of forks and the Bio-pace chain rings, early 80s ??? But I'm guessing really. Certainly it's a more modern bike than my Lenny Rogers.
Cheers,
Nitram