News & Reviews on BNA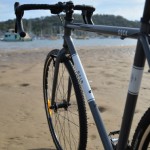 If you visit Melbourne, Sydney, Brisbane, Perth or Adelaide, you stand a good chance of spotting a Reid bike somewhere in these cities. The Australian company can still be described as a new-comer to the market, but they have expanded swiftly and are now selling in Europe and the USA as well. Reid's strategy is […]
Forum rules
Post Title Format: [Your City/Region] Item Title
NEW MEMBERS, read the
Market Place Rules
first before posting.
Posts: 67
Joined: Mon Feb 20, 2012 11:07 pm
Postby kayrehn » Mon Oct 08, 2012 3:50 pm
Selling my extra tubulars because I am enamored with tan wall tires (looks are very important) and have changed to using the Evo SC instead. One of the best tubulars that you can ride without an exorbitant price tag. Never glued, tags still on. $130 posted anywhere in Australia, or $120 if you pick it up from me at Claremont, Perth. Drop me a PM!
---
---
Who is online
Users browsing this forum: Bing [Bot]
About the Australian Cycling Forums
The largest cycling discussion forum in Australia for all things bike; from new riders to seasoned bike nuts, the Australian Cycling Forums are a welcoming community where you can ask questions and talk about the type of bikes and cycling topics you like.
Bicycles Network Australia
Forum Information