News & Reviews on BNA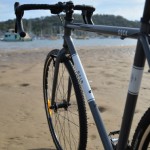 If you visit Melbourne, Sydney, Brisbane, Perth or Adelaide, you stand a good chance of spotting a Reid bike somewhere in these cities. The Australian company can still be described as a new-comer to the market, but they have expanded swiftly and are now selling in Europe and the USA as well. Reid's strategy is […]
---
Posts: 1
Joined: Mon Nov 19, 2012 8:31 am
Postby snarblinge » Mon Nov 19, 2012 8:40 am
Sorry to dredge an older thread,

Am waiting on a replacement for my 2012 inc 2 so doing some shopping/research

I'm in NZ so the Focus seems to be a little hard to come by, but keen to know how it compares dollar wise to the 2013 inc2?

and is there anywhere with complete specs for them, the focus site seems a little light on details. Do they ship with blue tyres as per their site?

I have had a belt for 9 months and will not go back to a chain for my daily commute. temporarily on a melvern star MTB with chunky "slicks" I have borrowed from a mate. Cant wait to get back on one of my own
---
Posts: 1
Joined: Tue Apr 16, 2013 10:30 pm
Postby empre » Tue Apr 16, 2013 11:01 pm
simurs4 wrote:decided on the focus and picked it up tonight after work excited to ride it now! its got everything i wanted, matte black, hydro brakes, 8 speed alfine, love it! now i can transfer across my budget bits from the foil onto it so i can get some lighter stuff for the foil

.

heres a couple pics, thanks for your help guys.

[img]http://img812.imageshack.us/img812/8141/focus2b.jpg[img]

[img]http://img137.imageshack.us/img137/2647/focus1vw.jpg[img]
What size is your bike and what's your height and inseam lenght? I'm too thinking about getting either Bad Boy or Planet TR.
---
---
Posts: 9
Joined: Thu Apr 11, 2013 2:33 pm
Postby waqas_1994 » Fri Apr 19, 2013 6:26 am
I was also looking into getting a commuter but finally decided on a road bike. The giant roam xr1 looked very good. Avid hydro brakes and slx groupset i think. Its worth a look
---
Who is online
Users browsing this forum: No registered users
About the Australian Cycling Forums
The largest cycling discussion forum in Australia for all things bike; from new riders to seasoned bike nuts, the Australian Cycling Forums are a welcoming community where you can ask questions and talk about the type of bikes and cycling topics you like.
Bicycles Network Australia
Forum Information