News & Reviews on BNA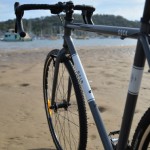 If you visit Melbourne, Sydney, Brisbane, Perth or Adelaide, you stand a good chance of spotting a Reid bike somewhere in these cities. The Australian company can still be described as a new-comer to the market, but they have expanded swiftly and are now selling in Europe and the USA as well. Reid's strategy is […]
Posts: 72
Joined: Tue Dec 11, 2012 11:34 pm
Location: Wandering Europe - Stationed in Nice
Postby riles » Thu Jan 10, 2013 8:13 am
anyone got any information on this years event? cant seem to find anything..found plenty of info about last years event, but it all seems to be out of date?
---
Posts: 3400
Joined: Sat Dec 01, 2007 10:14 pm
---
---
---
Posts: 72
Joined: Tue Dec 11, 2012 11:34 pm
Location: Wandering Europe - Stationed in Nice
Postby riles » Mon Jan 14, 2013 5:29 pm
sb944 wrote:Perhaps. A quick google says it's a pretty tough ride both because of hills and rough roads. What is the entry fee?
nothing like a challenge and something to aim for! entry was $50
---
---
Posts: 8108
Joined: Sat Dec 11, 2010 12:33 am
Location: TL;DR
Postby Xplora » Fri Jan 18, 2013 11:51 am
I did this last year. I really want to do the 100km with the actual bunch. I started 20 minutes late and spent the whole day overtaking people and it was UTTERLY BRUTAL on a hot day. I've learnt a lot about eating and drinking since then (aka, make sure you eat and drink) and I hope to be able to do the whole ride in under 3 hours doing turns. I managed 3.5 hours with a much heavier bike and much weaker legs.

I would strongly suggest that you be prepared to pace yourself if you haven't done this distance because doing Glenhaven Road then Cattai Ridge Road twice is an absolute nightmare. Being familiar with the route will be extremely helpful for survival. I've been doing the Trek shop rides with the fast group for half the year and familiarity with the route just helps you to avoid blowing up so much. Boundary Road for example should be a relief (downhill) but there are tons of little climbs that rob your speed. That adds up to bonking early and hard on the second time around.

Do the ride, but if the temp is above 25, it will be a tough day in the saddle.
---
---
Posts: 8108
Joined: Sat Dec 11, 2010 12:33 am
Location: TL;DR
Postby Xplora » Mon Jan 21, 2013 7:13 pm
Strongly recommend coming along to the Trek Rouse Hill store rides, if you can come along every week you'll get a good run. Leaves 6:30am Saturday morning in front of the Trek store. The fast ride incorporates part of the route every second week.
---
Posts: 10
Joined: Mon Jan 07, 2013 10:41 am
Postby glowe » Tue Jan 29, 2013 8:02 pm
Hi Everyone

My brother and I are registered for the ride. We have not done it before. To prepare I have done the full circuit once in under the 5 hour limit. One question I have is, what are the streets leading up to Old Northern? On the map, there is no mention of Annangrove Rd and Old Northern Rd is really long. But having ridden it, the Old Norther Rd section is not so long and Annangrove Rd seems to go on forever. It is the really rough part of the course as the surface is rough for a lot of it.

I do agree about the eating. It certainly makes a difference before and during the ride. Hey, what's the best thing to eat? I like those brevit biscuits during the ride becasue they have carbohydrates and slow release over 4 hours.
---
Posts: 8108
Joined: Sat Dec 11, 2010 12:33 am
Location: TL;DR
Postby Xplora » Tue Jan 29, 2013 11:35 pm
Do a search of Tour De Hills map on Google, you'll get something. You go up Commercial then around to Hazlett then Glenhaven up to Old Northern, follow that to Cattai Ridge Rd and down Boundary. That's pretty much the highlights reel I think? Annangrove definitely isn't part of the course - would be so easy if it was!
---
Posts: 1
Joined: Mon Feb 03, 2014 3:15 pm
---
Who is online
Users browsing this forum: Warin
About the Australian Cycling Forums
The largest cycling discussion forum in Australia for all things bike; from new riders to seasoned bike nuts, the Australian Cycling Forums are a welcoming community where you can ask questions and talk about the type of bikes and cycling topics you like.
Bicycles Network Australia
Forum Information