After some use by my daughter, I'm getting the impression that the pads aren't that great. It's hard for me to judge with a stronger hand grip, and without the same weight to stop. But my expectation is that she should be able to easily come to a stop, not just have a gentle slow down. As a result, the brake hasn't given her the downhill confidence I'd hoped for. Maybe nothing will and I'm expecting too much of a four year old girly-girl, without just getting out there more and riding it. But if I can throw $5-10 of pads at it, maybe things would be better.
Online reviews of the brake don't rate the original pad highly either, so I think I'm on the right track.
The existing set up is shown below. It's a 50mm pad, with a threaded shaft and a domed nut.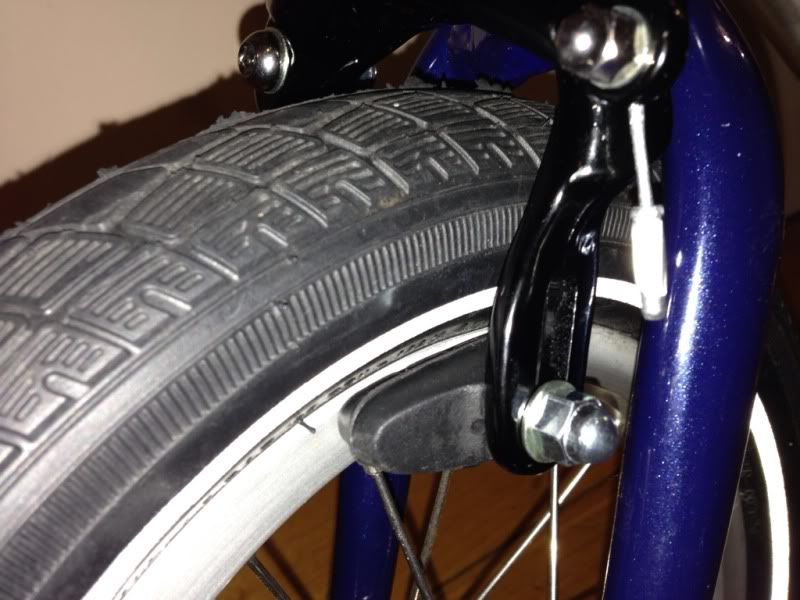 I'm having a heck of a time understanding all the pad options on the market and their compatibility with different brands/systems. Seriously, how hard is it to have a pad that fits a slotted caliper arm and attaches with a nut or screw? Will anything do, or should I look for compatibility with any particular system? (or equally, avoid any particular compatibility?)
I think the only limiting factor may be not going for too long a pad due to the small wheel radius. But whatever is the grippiest compound available would be best, and given the use I have zero concerns about wear rate or heat capacity.
Thoughts and help appreciated.