One of my long term bike projects has finally seen the light of day, due to
me having a bit of time on my hands at the moment......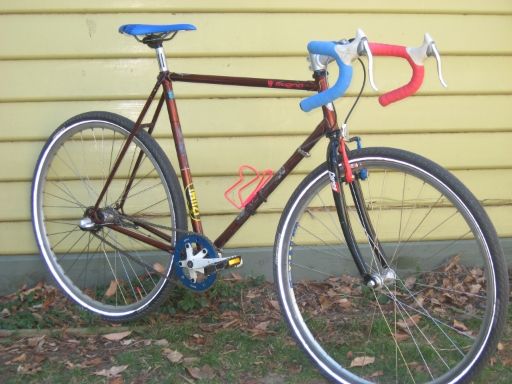 The 1977 Kuwahara frame, Sugino cranks, seatpost, steel bars, road levers, front
wheel, rear rim and bidon cage were all from my hard rubbish pickings from over the years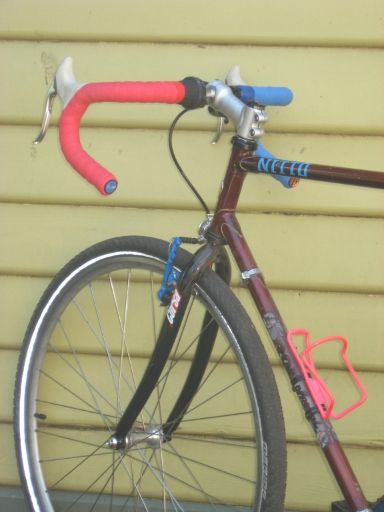 New part purchases over the past three years for this project include the Shimano
Nexus 3 speed coaster hub/shifter, rear spokes, front fork, front v-brake, chainring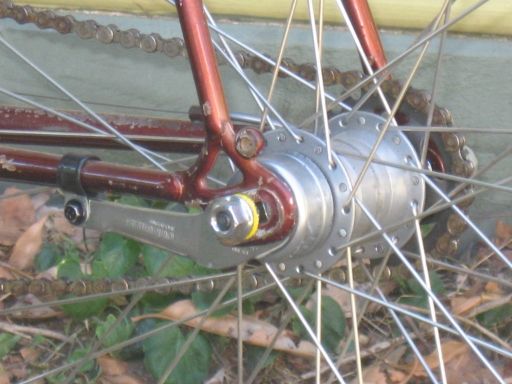 Saddle was a prize. Most of the other parts had been lying around my shed for a number
of years. 700 x 40 tyres were from a friend, and have 2mm clearance on chainstays!
So - a 3 speed, coaster braked cyclocross bike - of sorts. Weight 12kg
I've tried to color match components with the Robs blue circle/flame robin decals,
and the red/blue Hallmark "Built to Last" head badge wreath. I've also tried to keep
a bit of a Japanese made theme with components and decals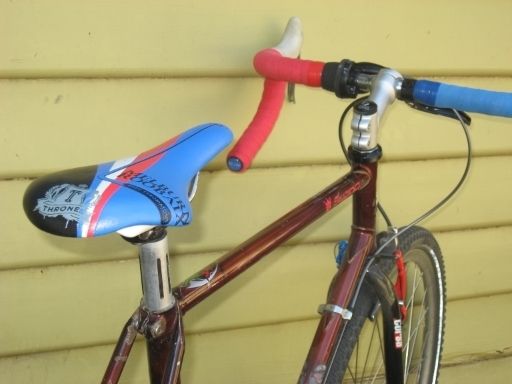 Took it for it's first shake-down ride yesterday arvo into the city and back via
Scotchmans, Gardiners and Yarra paths, hitting the dirt and gravel where I could
Moves along quite nicely, and the 44/21T primary drive paired with the Nexus 3
seems ideal for this type of riding. The rear coaster brake and lack of backpedalling
will take
a lot
of getting use to, as will the reverse twistshifter
The real test? Maybe a Dirty Deeds CX race......
Primarily, I built this bike as a local urban trail basher that I could ride alongside my
9 year old son on his 3 speeder. Initially, it was intended to be a 'train station/pub bike',
but as with most of my projects, they always end up as something 'a bit more'.....
Hope you like it!
Sorry about the large images. Haven't had much luck resizing them