She looks a bit sad like this doesn't she.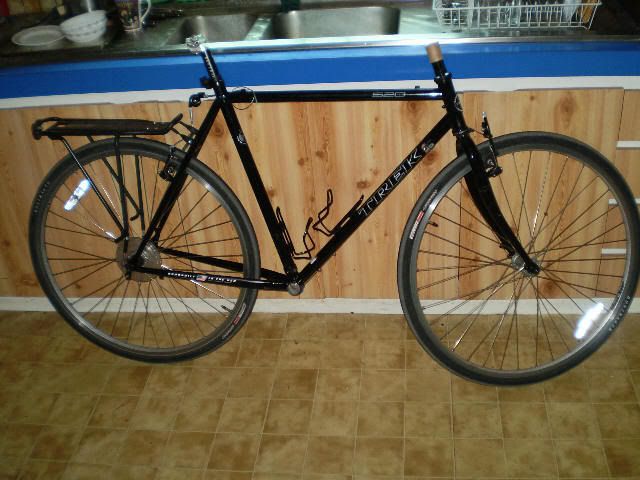 One of the many options, assuming someone doesn't throw money at me, is to convert her into a better version of the Sow's Ear.
The Black Beast would then become the bike that tows the dog trailer, the tag-along, does the shopping, explores dirt roads, does gentle off road work. Regardless of utter appropriateness of this frame for the job, it's the frame I already own, which is always a good start.
Let me make this clear, if I go this route, eventually she'd be wearing decent components (DeoreLX or XT), not the crap from the Sow's Ear, but it did occur to me that merely shifting the bits from the Sow's Ear to the Black Beast would be a cheap way of kickstarting the project.
The initial sticking point, and I'm sure I'll find others, is that the Sow's Ear is 7 speed while the free hub on the Black Beast is 9 speed.
To go 9 speed will mean buying a cassette plus shifters - yes, freely available second hand on
ebay
but it's not something I want to spend money on right now, better to keep using what I've got in that case. However, the swap over would allow me to test the theory.
Can I take the 7 speed cassette off the Sow's Ear and put it on the rear wheel of the Black Beast? Are spacers or adaptors needed?
Richard
need I upgrade my meds?