Australian Bicycle Shops in South Australia
(57)
Sort by: A-Z Newest
Kevin Clark of Clarks Cycles has retired after 38 years of trading and the business is now closed. He thanks his loyal customers and wishes happy trails.
354 Magill Road, Kensington Park, South Australia, 5068, Australia
Shop 4, 60 Liverpool Street, Port Lincoln, South Australia, 5606, Australia
468 Goodwood Rd, Cumberland Park, South Australia, 5041, Australia
2/19 Albyn Terrace, Strathalbyn, South Australia, 5255, Australia
820 Port Road, Woodville, South Australia, 5011, Australia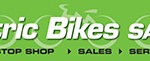 Electric Bikes SA have selected quality electric bikes from around the world in our showroom. Electric bikes have breathed new life into the traditional bicycle for hundreds and thousands of riders around the world. Come in and experience for yourself the new found freedom and healthier lifestyle that an electric bike will provide you.
344 Magill Road, Kensington Park, South Australia, 5068, Australia
5 Barfield Crescent, Elizabeth West, South Australia, 5113, Australia
226 Hampstead Road, Clearview, South Australia, 5085, Australia
1 Hospital Rd, Port Augusta, South Australia, 5700, Australia
23 Queen St, Goodna, South Australia, 4300, Australia