Australian Bicycle Shops
(867)
Sort by: A-Z Newest
82 Barker Street, Casino, New South Wales, 2470, Australia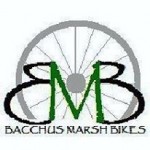 We have been operating for 4 years with 10 years retail and service experience. I have raced in europe in the amature pro series beforre returning to australia. We have an extensive knowledge of product and High level of service.
Shop 7 Darley Plaza, 151 Gisborne Road, Darley, Victoria, 3340, Australia
Shop 6 Fisher Square, Fisher, Australian Capital Territory, 2611, Australia
Back on Track Mobile Bicycles Mechanics offers: bicycle servicing, repairs, upgrades, building ?all with the convenience of coming to you! Be it your home, workplace, or even roadside (in the unfortunate event of a breakdown). We're also available after hours – whichever suits you best. Our services can be completed onsite or we can pick-up and drop off at a suitable time. We are not a retail shop so we can concentrate 100% of our time and effort into servicing your bike to the highest standard with great attention to detail. Be assured your bicycle is in the best hands. […]
Mobile Bicycle Mechanics, South East QLD, brisbane, Queensland, 4034, Australia
At Ballarat Bike Hub we live, breath and love bikes. When we're not at work we're still living bikes, whether we are out riding, checking out the latest bike that rides past or even at bike races. Does this make us freaks? NO! The fact is that cycling is good for your body, mind and soul. Whether you ride for pleasure, racing, or transportation, RIDING IS ADDICTIVE. Here at the Bike Hub, we like to listen to your requirements and will point you in the right direction to fulfil your needs and/or wants. It doesn't matter if you want a […]
47 Little Bridge Street, Ballarat, Victoria, 3350, Australia
121 Riding Rd, Hawthorne, Queensland, 4171, Australia
18 Burwood Highway, Burwood, Victoria, 3125, Australia
We're your local shop for new bikes, accessories, servicing and bike hire on the South Coast. Batemans Bay Cycles offers a range of cycles to suit every rider. We ride bikes, fix bikes, hire bikes, breathe bikes & sweat bikes! So whether you ride: road, dirt, street or beach we can help you out with advice & accessories to keep you pedaling. Ride Bikes, Be Fabulous!
Shop 1, 8 North Street, Batemans Bay, New South Wales, 2536, Australia
Bates Bikes has been providing bikes and service since 1920, from the smallest juvenile bikes and scooters up to the racing bikes ridden by some of the best professional cyclists in the world. Bates Bikes prides itself on providing a bicycle to customers that is suited to their budget and specific needs. This comes from a wealth of experience and knowledge of cycling. We sell only quality bicycles, accessories and clothing and offer back up service and support for all aspects of cycling. Our staff are carefully selected to ensure a well balanced shop that can cater for all your […]
273 Princes Highway, Carlton, New South Wales, 2218, Australia
Welcome to Bayside Bike Hub where we provide a welcoming atmosphere and take pleasure in providing high quality customer service to all of our customers. We are here to listen, advise and serve to you in achieving our aim of meeting your cycling needs – whatever they may be. Call in and meet Flea and the team.
894 Nepean Hwy, Hampton East, Victoria, 3188, Australia